Meg Liptrot sings the praises of an old fashioned, forgotten beauty - abutilon.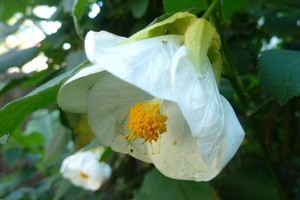 Known commonly as Chinese lantern, abutilon (Abutilon x hybridum) is often found in the older suburbs, where gardens are established with large trees and plenty of shade. A couple of my friends, who always flatted in and around Mt Eden, lived in a beautiful, arty bungalow for many years. There was a large puriri tree in their volcanic garden, but what I remember most was the bright, cheery orange of the abutilon which greeted you as you walked down the side path into the lower terraced garden. Its flowers happened to match the colour of the house, and the plant always seemed to be flowering.
My mother remembers an orange abutilon at my great grandfather's old seaside bungalow. The particular shade of orange I've seen in the older gardens reminds me of fabric lampshades from the 70s. Maybe this is why I have a fondness for this uncelebrated plant, and decided to give it a go in the semi-shaded areas in our garden in need of filling.
There's an array of colours available these days, so I chose white, dark burgundy and shell pink cultivars, to tie in with the white banksia rose, and pink magnolia already in the garden.
I found the white cultivar outperformed the coloured ones, but the others are still doing well.
Abutilon is a shrubby plant which grows to 2.5m. The leaves are mid to dark green and are soft maple leaf-shaped, giving rise to their other common name, the "flowering maple". We also have a small maple tree in our garden, so it was a good match.
Abutilon is related to hibiscus, and its flowers are like pendulous, mini hibiscus flowers with a pronounced staminal column covered in pollen. The habit of the plant is quite open, so it is best to give a good prune when needed to keep the foliage from becoming leggy.
The great thing about abutilons is that they are incredibly hardy, and will cope well where other plants fear to tread, namely, in the damp or dry shade under established trees.
With this in mind, if you plan to plant this, or any flowering or shrubby filler in an established garden, make sure you plant before the soil dries out. It is very hard to establish a plant in these conditions once the soil is dry, unless you are keen to spend a fortune on irrigation and water bills.
I've planted white flowering abutilons as a loose hedge in an established garden along a path within the confines and shade of a very large totara tree - likely to be more than 100 years old. The abutilon "hedge" bushed out and flowered prettily, performing like a trooper. It required very little care apart from the odd mulch and trim to keep it in line, and to ensure repeat flowering. Its little white "lanterns" dangled daintily in the gloom, creating the illusion of lighting the pathway.
Flowering fillers for semi-shade
Whites:
Mexican Orange Blossom (Choisya ternata) *
Puawananga (Clematis paniculata) **
Rengarenga lily (Arthropodium bifurcatum) "Matapouri Bay" **
Star jasmine (Trachelospermum jasminoides). It's a climber, but also suitable as a ground cover.*
Blues and purples:
Clematis species and cultivars (climber) - a large range of non-native species and cultivars can be found at garden centres and specialist nurseries in myriad shades from mauves to deep violet.
Yellow to salmon and orange:
Vireya Rhododendron
Clivia miniata
Canna lily (Canna indica) (also grown for strikingly coloured foliage).
Reds/pinks/burgundies:
Daphne (Daphne odora)* (white/pink)
Clematis montana cultivars
Camellia japonica (C. reticulata and C. Sasanqua) cultivars (including white)
Canna lily (Canna indica).
Wide colour range:
Abutilon (Abutilon x hybridum).
Rhododendron species and hybrids (of which there are thousands).
* notable fragrance ** NZ native
* To see an impressive range of camellia species and cultivars, check out nzcamelliasociety.co.nz.
For rhododendrons go to rhododendron.org.nz or visit Eden Garden in Mt Eden, Auckland.
* Meg Liptrot studied sustainable horticulture and is a garden designer specialising in organic edibles and natives.