Kids - and parents - love it for the freedom it affords and the friends made. Holiday camps are a win-win for all, writes Diana Clement.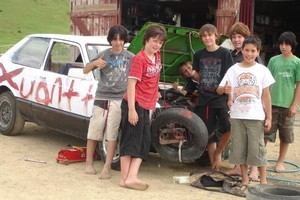 School holiday camps are the stuff of great childhood memories. Every holiday thousands of children descend for a few days or a week at camps that do everything from teaching you the finer arts of collecting stamps, to riding a dirt bike.
There are snow camps, mountain bike riding camps, art camps and many more. Many will have the memories of these days away from Mum and Dad etched into their minds for life. Visit any one of these camps and the children are buzzing. Many of them get to try activities their parents may not be able, or inclined, to let them try.
For many working parents it's a way to get through the holidays without the stress of juggling work and kids. Winz subsidies are available for those parents who qualify.
Weekend looked at four different camps.
The Mean As Boys Camp and Sweet As Girls Camp, Northland
Getting dirty down on the farm is something many city kids don't get to experience these days.
Northland's The Farm has the antidote for all of the disinfectant wipe-style upbringing of modern kids.
Thirteen-year-old Beinn Chapple-Law spotted the Mean As Boys Camp in the Kid Active brochure he received at Pasadena Intermediate School.
He liked the idea of a farm holiday with lots of other boys. The boys learn to motorbike ride, horse ride, milk cows, and muck in down on the farm.
Beinn had never ridden a motorcycle before and was full of anticipation as he jumped on the bus with 15 other boys at Burger King in Albany for the four-hour trip north. He was nervous, but made to feel at home as soon as he arrived at The Farm, where the boys shared bunkrooms.
The Bennett family who run the camp have many teenagers and friends who stay for the holidays making up one big happy family for the campers.
Learning to ride a motorcycle in a safe environment was the real highlight for Beinn. Once they'd learned, the boys took motorcycle treks in groups around the farm.
Beinn also especially enjoyed bush bashing, night games in the bush, learning to ride bare-back, and playing with the farm dogs.
Mum Jessica Chapple says: "It was really loose and it gives them a sense of freedom.
"He has become more adventurous since he went."
It's difficult for parents of children Beinn's age to find things for them to do in the holidays as most have outgrown traditional holiday programmes, says Chapple.
She adds that the cost of a camp is significantly less than taking a week off work and doing activities around Auckland. Once Beinn was at the Mean As Boys Camp, there was nowhere for him to spend money.
The Farm, which runs the camps also has a girls-only camp, which offers the same activities as the boys' camps.
Cost: $500
Duration: 4 nights
Peter Snell Youth Village, Whangaparaoa
There are more residential Christian holiday camps in New Zealand than any other type and the Peter Snell Youth Village in Whangaparoa is one of those. Set up by the New Zealand Sunday School Union in 1963, generations of happy campers have spent their school holidays there.
That doesn't mean the children who attend need to be Christians. The camp aims to "reach out to" a wide range of children, says manager Gordon Campbell. Plenty of the holiday campers have come with their school during term and are keen to make a repeat visit in the holidays.
Peter Snell Youth Village has a mud slide, obstacle course, and plenty of outside activities. Daily Christian activities are also designed to be fun.
Many, but not all campers have working parents who find holiday camp a welcome relief from sorting out childcare so that they can continue to work. Others come, says Campbell, because they simply enjoy holiday camps.
One such child is 10-year-old Tessa Wishart, who attended a Peter Snell Youth Camp last year along with eight other girls and 30 boys.
The giant water slide was the highlight, says Tessa. Another was the unexpected 6am wake-up call one day to walk to the beach to see how many of God's creatures they could identify.
"It was more fun to go to camp than to stay home in the holidays," says Tessa. "We did much more than we would have done if we were at home (during the holidays)."
She particularly enjoyed time spent with the supervisors who were teenagers and willing to muck in with all the fun. "They got in and did everything with us."
Cost: $150.
Duration: 4 nights
Camp Adair, Hunua
YMCA Camp Adair in Hunua has been around for so long that grandparents and even great-grandparents have sat around the campfire. These days holiday camps are also held at Shakespear Lodge in Whangaparaoa and at Waiwera. Camp Adair's original purpose was to get city boys into the outdoors and let them experience camping. These days girls are welcome as well.
The holiday camps boast plenty of old-fashioned activities such as campfires, tramping and bush survival. There are also more modern activities such as kayaking, mud running, canoeing, mountain biking, sailing, high ropes, camping out, hot pool visits, rock climbing, high ropes, archery, and lots of fun and games.
Not all of the camps are the same, says Andrew Sturgess, chief instructor for YMCA Camp Adair. Some are more challenging and include overnighters in the bush. Others have an element of craft and other activities for children who aren't as adventurous.
Plenty of Auckland children have attended school camps at Camp Adair. The difference with the holiday camps is they're not forced to do anything they don't want to, whereas at school camps they're pushed to go beyond their natural boundaries.
The big reason children attend Camp Adair holiday camps, says Sturgess, is that their parents are working. Some come simply for the experience.
Cost: $200/$245
Duration: 3 or 4 nights
PYC Youth Stamp Camp
Organisations ranging from the Girl Guides and Cubs through to specialist collectors clubs such as the New Zealand Philatelic Federation run camps for young children. For example the four-yearly national Girl Guide Jamboree will be held next January in Rotorua.
For non-sporty children, a more sedate stamp or art camp could be the answer.
The PYC Youth Stamp Camp has been running for more than 40 years ever since 16-year-old stamp collector Rob Hunt had a brainwave in 1966 to set up a camp for his favourite hobby. The camps are organised by the Philatelic Youth Council to educate and train enthusiastic young stamp collectors in the more detailed aspects of stamp collecting and exhibiting.
This year's camp is being held at Camp Sladdin, a scout camp, in Clevedon. The camps are held in a different location around New Zealand each year and between 20 and 30 children attend. Next year it will be held in Christchurch.
Each child produces an eight-page stamp project suitable for exhibiting. They may be traditional type pages relating to a certain country, or they may be thematic such as soccer or dogs or another theme. They will also go on day trips. Last year, it was to Weta Workshops, which was featured in the Lord of The Rings stamps and Goat Island, a fromer quarantine station off the coast of Wellington.
Organiser Tim Beach attended camps when he was in his teens and made life-long friends.
Cost: $200
Duration: 6 nights
* For more info on school holiday camps visit kidactive.co.nz