The Big Buddy programme is proving a life-changer for boys who have little or no contact with their fathers or other male role models, writes Paul Little.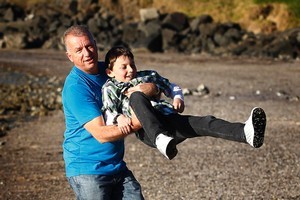 The first time Paul van der Meer met his little buddy, Kingsley Wills, they were both nervous. They had been paired by the Big Buddy programme, which exists to provide male role models for boys who have little or no involvement with their own fathers. Most people know this is blamed for numerous social problems involving young males. Big Buddy does something about it.
On their first outing, Paul - general manager of an online pharmacy - and Kingsley went on roller coaster rides until Paul started to feel nauseous. "It was important to have fun, so we had a bit of fun. We didn't talk a lot. I imagine a lot of 9-year-old boys aren't that talkative."
Now their get-togethers are a weekly highlight for both. "We spent a day out with the Ferrari club on June 5," says Paul, sounding not unlike an excited 9-year-old himself. "A whole lot of big buddies and little buddies went out and got to ride in the Ferraris. I'd never been in a Ferrari before."
But it's not all Santa-sized treats like roller coasters and sports cars. "One of my most memorable times with Kingsley was going to the beach at Port Waikato, and all we did was draw pictures in the sand. We got so involved we lost track of time and I had to ring his mum and say, 'I'm sorry, I'm well over my limit today and won't be back for another hour'."
Despite all the safeguards, it can't be easy for a mother to entrust her son to a man she doesn't know. Candidates for the role of big buddy are strictly vetted: there's a personal interview, psychological assessment, police check and training session before they start.
"It still takes a huge amount of courage and belief in the system," says Paul, who is married but has no children of his own. Kingsley's mother's faith has been rewarded. She even reported an early improvement in her son's schooling.
"Just showing an interest in him and turning up had a really positive effect," says Paul. He reports that benefits for him include "feelings of sheer joy, just being in the presence of someone so young and enthusiastic who sees things quite differently".
He has also learned how important it is for boys to have a man who is a regular part of their lives and doesn't let them down: "The few times I've not been able to come along he has got disappointed."
So he goes to great lengths to see Kingsley every weekend, even to the extent of standing up his own dad.
"Big Buddy had an event called the Big Buddy Day Out which coincided with the day my family were celebrating my dad's birthday and I couldn't do both. I made the decision I'd do the Big Buddy thing because Kingsley had been looking forward to it for so long."
After their shy start, the two have never had a dud day - the worst Paul can think of is one occasion when Kingsley was in a bad mood.
"I'm hoping we can keep our relationship going for a very long time. The initial year that they ask you to commit to is up and I have no intention of stopping now I'm in year two."
If you're keen
The Big Buddy Organisation is a New Zealand initiative that began in 1997. It operates in Auckland, North Shore-Rodney and Wellington. Little buddies are aged between 7 and 12 and big buddies commit to spending two to three hours a week with them. There are currently 180 pairs of buddies. For more details visit the website above or call the head office on (09) 838 4448.