A new book celebrating the history of the wedding dress describes the evolution of the white tradition and the trends that have come and gone.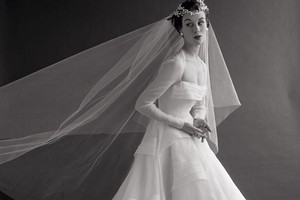 When Catherine Middleton married William Wales, her gown was the most talked-about fashion item of the decade, probably the century so far. That silk gazar dress marked her transformation from a commoner to a duchess, from plain Kate to Her Royal Highness.
But she was not the first woman to don a special dress and transform herself. For every bride, her wedding dress is possibly the most important she will ever wear. Its mystique is so great that the design is traditionally kept secret from the groom until the moment she walks down the aisle and the dress is such a personal choice that in many ways it represents elements of the woman who has chosen to wear it.
In homage to the cultural importance of the wedding dress, Britain's Victoria and Albert Museum has amassed a collection of wedding gowns and memorabilia dating back to 1673. An exhibition featuring some of its treasures will take place at Te Papa from December.
To mark the exhibition, Te Papa has published The Wedding Dress: 300 Years of Bridal Fashions, by the V&A curator of textiles and fashion, Edwina Ehrman.
It contains hundreds of photographs and historical illustrations as Ehrman takes us through the evolution of bridal wear.
She explains that while before about 1790 there was no particular colour code for a wedding dress, white, often with silver, and most often in silk was preferred by the moneyed classes. In those times a lack of washing machines and dry cleaning meant laundry was a laborious, manual task, but for those with sufficient wealth there would be a coterie of laundresses on hand to bring the dress back to its pristine state, for "no 18th century bride would have expected to wear her wedding clothes for a single occasion". Those who could not afford a new dress would just wear their best frock.
From 1790 on, white, became the colour of choice, Following Paris trends, veils began to be commonly worn with evening dress and these were gradually subsumed into wedding wear.
Ehrman explains that one of the most significant events in the history of the white wedding dress was the marriage of Queen Victoria to Prince Albert in 1840. Victoria put aside her royal regalia and chose, patriotically, to have a gown made by British craftspeople - creamy white Spitalfields silk from London and Honiton lace for the trimmings and veil, made by hand in Devon and still a tradition for royal brides. Her flowers were white roses and orange blossom, symbolising virtue and fertility. This set the standard for Victorian weddings and continued through the 19th century.
In Edwardian and pre-war years, the emancipation of women brought in freer, more relaxed fashions. Hemlines rose and waistlines dropped, film was making inroads into public life and early movie reels had pictures of the latest looks for the audience to dismiss or desire.
After the war came the rise of "name" designers such as Anglo-Irish couturier Edward Molyneux, who opened his fashion house in Paris in 1919, and English "designer to the royal family" Norman Hartnell, whose label was established in 1923. Favourite styles were flat-chested flapper frocks, or medieval-influenced gowns.
By now the movies were taking hold of popular sentiment. The romance and escapism of the pictures entered the hearts and minds of the viewers, says Ehrman, and Vogue magazine urged them to take "full advantage of the opportunity their wedding offered to be a star for a day". In chiffon, silk tulle and crepe, brocade and sequins, in Worth, Lanvin and Stiebel, the fashionable set strode out for the society pages.
But this romantic interlude was cut cruelly short by World War II. Fabric for any clothing, let alone wedding dresses, was in short supply and parachutes had first call on silk. Ehrman tells how sensible war brides took to borrowing dresses or hiring them; some used their initiative and walked down the aisle in gowns made of curtaining or upholstery fabric.
Instead of veils, many wore hats, as these had escaped rationing. Fiances in the services salvaged parachute silk or rayon on the battlefield and brought it home for their beloved.
Post-war, the British had hoped their fashion industry would reign over the battle-scarred French, but Dior's first collection in 1947 put paid to that and his "New Look", with its feminine silhouette, captured the imagination of a world of women tired of austerity. Wedding gowns followed the Dior trend with nipped-in waists and fuller skirts. But as social changes swept Europe, the rise of a new phenomenon, the ready to wear bridal shop, was heralded. Now brides-to-be could scan catalogues or try on a selection of dresses in store. Magazines featured bridal collections and even top-of-the-range designers such as Bellville Sassoon entered the fray.
As the 50s marched on, shorter dresses became popular, with Harpers Bazaar championing mid-calf-length (ballet-length) wedding gowns as the "career girl's choice". Off-the-peg was becoming increasingly relevant to the more egalitarian times. The 1950s also saw the launch of Brides Magazine, targeting middle class readers seeking the wedding - and dress - of their dreams.
But that decade was the last gasp of true traditionalism. The swinging 60s and 70s rocked in with miniskirts and Mary Quant. Ehrman reminds us of singer Lulu, who wore a tiny silk dress for her marriage to Bee Gee Maurice Gibb in 1969, but channelled Lara from Dr Zhivago by topping it with a fur-trimmed, hooded maxi coat. And who can forget, that same year, Bianca Jagger marrying Mick in picture hat and plunging jacket with nothing on underneath?
From then on, trends have come and gone. There have been barefoot hippies, striking colours and daring cuts. Fashion has darted from the bizarre to the traditional, historic to futuristic.
Perhaps the most famous, up to now, has been that worn by another young royal bride, Diana Spencer, when she married Prince Charles. Dressed in a meringue confection designed by David and Elizabeth Emanuel, Diana immediately began her new life as a fashion icon - in a white wedding dress.