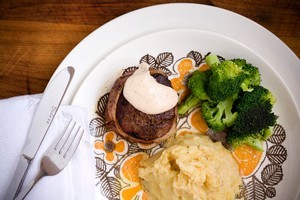 Meat and three veg sounds like the least glamorous dinner option in the world, though I believe many of us take comfort from a well-cooked meal balanced with plenty of vegetables. There's no need to serve up overcooked meat and tasteless, boiled veges.
Take a moment to chat to your local butcher and fishmonger to decide which cuts suit your cooking time, then grab whichever vegetables are seasonal and look the freshest.
Adding some spices and fresh herbs will flossy up the ingredients and then they can be presented with a touch of personal style so everyone can enjoy comforting and satisfying meals that many of us grew up eating - with a bit of a twist.
Wrapping a piece of eye fillet in streaky bacon before searing in the pan will add delicious flavour.
Pair this with agria potatoes mashed with fruity olive oil and steamed broccoli and a creamy bearnaise sauce for a delicious and sophisticated take on the theme.
Roasting fish is so simple - all you need is a lovely thick fillet or two of the freshest fish you can find, some tasty seasoning, a reasonable amount of olive oil and perhaps a little butter, plus - perhaps most importantly - a hot pan in a hot oven so the fish becomes well seared and crispy then cooks until deliciously juicy.
I love pairing fish with taro which cooks with a crunchy crust and a soft centre because it's so starchy. It balances well with a slightly rich wilted spinach and coconut cream sauce.
The third recipe is for chicken. I prefer breast with the skin removed for this recipe. Usually I am all for the crispy skin encasing the meat but because in this recipe the breast is topped with buttery crumbs blended with jalapeno chillies and thyme, the skin doesn't get a chance to be crisp so can be removed altogether.
Yams roasted with honey and salt don't take long to become soft and scrumptious, while throwing in some sliced carrots tossed in a little olive oil with the yams finishes off a meal.
You can mix and match your veges depending on the season. It shouldn't be too hard to source what you need from your local vege store. They'll have a much more interesting array of options plus they often have time for a chat about which vegetables are at their best at the time.
Garlic and onions are always available and need to be cooked gently to release the natural sugars. These flavours are indispensable when creating the foundation of any vegetable or meat dish - as does adding fresh herbs and chillies during the cooking process, or chopping and offering plenty in bowls on the table to sprinkle on top of each dish.
Chef's tip
Just before you think the meat, chicken or fish is ready, take it off the heat and wrap it in tinfoil. The meat will continue to hold its heat as it rests, so after 15 minutes you will enjoy a deliciously tender result.