Kelly Young creates a nutty stir fry and scones with a twist.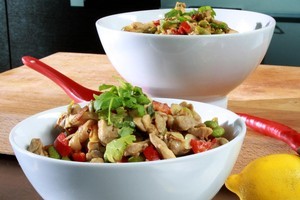 Dijon & chilli marinaded nutty chicken stir fry & soba noodles
Serves 4
Dijon & chilli marinade
½ cup white wine
2 tsp sesame seeds
2 Tbsp soy sauce
1 Tbsp lemon juice
2 Tbsp Colmans Dijon Mustard
Chicken stir fry
300g thinly sliced free range chicken thighs
2 cups steamed edamame beans
2 spring onions, sliced
1 red capsicum, roughly diced
2 Tbsp coriander
1 small chilli, thinly diced
Olivado Avocado Oil Spray
225g cooked soba noodles, drizzled with omega oil
½ cup Tasti Nut Fusions (Stir-Fries & Salads)
1. Combine marinade ingredients, pour over sliced chicken, cover with a plastic bag, refrigerate and leave for 1 hour.
2. Heat oil in frying pan or wok and add chicken (keep marinade).
3. Sauté for 1-2 minutes, add vegetables and a little marinade, coriander and chilli. Continue to sauté for a few more minutes or until the chicken is cooked through. Toss through Tasti nut mix. When cooked, spoon over the rice noodles. Serve immediately.
Watch The Chef's Apprentice, answer the question from each week's episode and be in to win a $5000 package of Fisher & Paykel appliances of your choice, to be drawn at the end of the series. Each entrant will also go in the weekly draw to win prizes from Breville and McGregor's gardening supplies. This week's Breville prize is a BEW300 Electric Wok.
To enter visit winwithheraldonsunday.co.nz. Enter your details and answer the question below:
Week four: What flavour tea did Kelly infuse her scones with?
* The Chef's Apprentice screens on Prime on Tuesdays at 8pm.