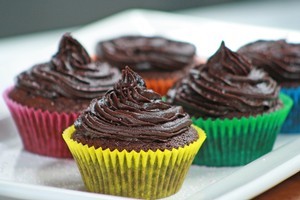 125g good quality 70% chocolate
2 eggs
1¼ cups mascavado sugar
¾ cup flour
2 tsp baking powder
100g raw beetroot, finely grated
50ml milk
15ml macadamia oil
1 Preheat the oven to 160ºC
2 Break the chocolate into small pieces and place in bowl suitable for heating over hot water. Place over a half-filled saucepan of barely simmering water and stir chocolate with a heat-proof spatula or wooden spoon until chocolate starts to melt. Once half the chocolate has melted, remove from the heat.
3 Cream the sugar and eggs together until fluffy. Mix the milk, beetroot, oil and melted chocolate and stir this into the egg mixture.
4 Mix together flour and baking powder, fold into the wet ingredients. Spoon the batter into cupcake/muffin cases about ¾ full.
5 Bake for 25-30 minutes or until a skewer inserted in the middle of the cake comes out clean.
Raspberry ganache
1 cup fresh or frozen raspberries
¹/³ cup cream
100g white chocolate or bittersweet
70% chocolate
1 drop of raspberry essence
1 Cook raspberries until soft then strain liquid and return liquid to the heat. Reduce liquid to a concentrate.
2 Heat cream and chocolate in a bowl over a pot with simmering water (don't let the bowl touch the water). Once melted and smooth remove from the heat and whisk in butter. Add in the raspberry concentrate and essence, stir until combined. Leave to thicken then spoon into a piping bag and top cupcakes. If you want to thicken the mixture, add more melted chocolate.
The Chef's Apprentice screens on Prime on Tuesdays at 8pm.