Kelly Young makes a delicious breakfast treat or canape.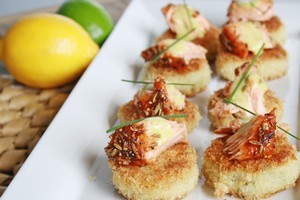 800g Regal Salmon, skin on and pin boned
100g manuka chips
splash of olive oil
tamari soy sauce
A sprinkle of the following (don't worry if you don't have all the spices, just use what you have): brown sugar, cumin seeds, paprika, cajun spice, caraway seeds, fennel seeds, yellow and brown mustard seeds, black pepper, sea salt
Mix all of the spices together to make the rub
1 Preheat the oven to 200ºC bake, NOT fan bake as you will blow the smoke everywhere.
2 Place fish on to a greased baking tray, brush on olive oil and soy sauce. Heavily coat with spices.
3 Turn on your extractor fan. Place the wood chips in an old pan, heat over the element until smoking, then quickly put the pan of wood chips and the tray of salmon into the oven together for 8-10 minutes.
4 The salmon is best served at room temperature.
Potato hashies
500g agria potatoes
1 onion, finely diced
2 NZ garlic cloves, crushed
1 tbsp chopped chives
Sea salt and pepper
2 free range eggs, lightly whisked
Panko breadcrumbs
Splash of olive oil
1. Boil the potatoes in skins in salted water, strain and when cool enough to handle remove skins and roughly mash.
2. Gently saute onions and garlic until soft and translucent.
3. Add sauteed onions, garlic and chives to the roughly mashed potato and mix. Season to taste.
4. Shape hashies into bite-size portions. Coat in egg then breadcrumbs. Heat up a splash of oil in a pan over medium heat and lightly fry both sides of the hashies until golden brown. If making larger hashies, put them in the oven at 180C for 5-10 minutes to warm right through before serving.
Lime aioli
Makes just over 500ml
3 free range egg yolks
1 NZ clove garlic, peeled and crushed
2 NZ cloves roasted garlic, crushed
1 tbsp Dijon mustard
Zest and juice of 2 limes
500ml olive oil
1-2 tsp manuka honey to taste
Sea salt to taste
1. Blend the egg yolk, garlic and mustard in a food processor or high speed blender until smooth. Add the lime zest and juice. With the motor running, slowly pour in the oil.
2. Once this has thickened to a mayonnaise consistency, season with salt and honey to taste. Refrigerate until required.
3. To assembly this canape, place a small piece of smoked salmon on top of a hashie, spoon on a small amount of aioli, then garnish with either some fresh chives, dill or chervil and serve.