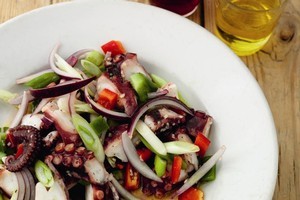 "I had this as a first course in a very everyday sort of restaurant in the fishing village of Santona, near Laredo in Cantabria. I love going into somewhere you'd never find in a food guide where the food is simple, local stuff. I also find this sort of restaurant in northern Spain quite charming because they are decorated, or rather over-decorated, in a style that suits the whims of the owners.
"In this case the owner was obviously a massive fan of hunting. There were pictures of shooting and fishing on every wall, guns everywhere, stuffed heads, and trophies all over the place. This salad, made with just a few local ingredients - red and green peppers, spring and red onions, a little garlic and olive oil - seemed entirely appropriate and rather a good way of serving sliced octopus."
450-500g cooked octopus
Half a red onion (approx. 75g)
75g piece (about 1/2) seeded red pepper
75g piece (about 1/2) seeded green pepper
1 bunch spring onions, trimmed and thickly sliced on the diagonal
3 Tbsp red wine vinegar
120ml extra virgin olive oil
1 garlic clove, very finely chopped
Salt and freshly ground black pepper
Crusty fresh bread, to serve
1. Cut the octopus into bite-sized pieces: the tentacles into slices about 7-8mm thick, and the head into similar-sized pieces.
2. Cut the red onion lengthways into arc-shaped slices. Cut the red and green pepper lengthways into slices then across into small chunky pieces. Put the octopus into a large mixing bowl with the red onion, peppers and spring onions.
3. Whisk vinegar, oil, garlic, 1 tsp of salt and some pepper in a small bowl, pour over the octopus and vegetables and stir well. Serve with crusty bread.