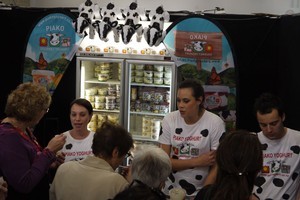 Wander around the Auckland Food Show this weekend and you're likely to hear stories of passion, creativity and thinking outside the square.
From the Dunedin-based company that harvests its shellfish by hand, to the extensive preserves range which started out being sold from a family garage, the exhibitors represent a snapshot of New Zealand's burgeoning foodie culture.
There's no doubt in the mind of Dave Redshaw, of Southern Clams Limited, that his company's product tastes better than shellfish from other places.
"The flavour's stronger because of where they come from," he told me.
Where they come from is the cold waters of Otago Harbour and Blueskin Bay, north of Dunedin.
As I sampled some of the clam chowder Redshaw was dishing out, he told me about the company's sustainable approach to harvesting.
While many fisheries operations use mechanical harvesting, Southern Clams has stuck to body dredging - that is, using a hand-pulled dredge attached to a basket.
Redshaw says the specially-designed dredges are "a viable way of getting through the substrate" and are less invasive because they allow any undersized shellfish or bycatch to be returned to the water.
Although many of these tasty shellfish - the company also harvests scallops - eventually make their way overseas, the strong New Zealand dollar is impacting profit margins in traditional export markets so Redshaw's especially keen for Aucklanders to fall in love with this southern seafood bounty.
If the clam chowder's anything to go by, that shouldn't be a problem.
Over at the Q Gardens stand, owner Roger Keller encourages me to try some jalapeno jelly. It makes a great marinade for cuts of meat, he tells me and goes well with peanut butter on toast and even - apparently - vanilla icecream.
There's no icecream at hand, but I try some with a bit of bread.
It's rather sweeter than I'd expected but a lovely hit of chilli flavour spreads across my palate seconds later and although I can sense it was once present, the heat has been cleverly stripped away.
Started in Waitara, Taranaki, more than 30 years ago by its original owners, Q Gardens is now based in Whangamata.
Keller says the huge variety of preserves the company makes has come about as a result of working closely with cafes and tailoring products to their individual requirements.
But since the company started selling its chutneys, relishes, jams and sauces through retail stores two years ago, the fruits of those working relationships are available to all.
From the suggestion of icecream with chilli jam, I move on to the Divinity Olives Limited stand, where husband and wife team Michael and Leanne Chinnery tempt me with their pomegranate balsamic vinegar.
Developed for last year's Taste Auckland festival as a product to complement the company's olive oils, the new creation is a flavour sensation.
When combined with the the acidity of a five-year-old balsamic from Medina, Italy, the sweetness of the pomegranate presents itself as a slightly tart treacle, the flavour of which lingers pleasantly long after you've tried it.
Leanne said they originally thought about creating infused olive oils but changed tack because that would have meant using lesser-quality oils than the ones they currently produce from their Mangawhai base.
And it would appear taking a chance on a new product has paid off for Divinity. The first batch of pomegranate balsamic sold out within two days of its launch last year.
Leanne says its uses are myriad: as with any good balsamic, it goes well with salads, but can also be used in sauces and compotes. And yes, it too is apparently great with icecream.
All this talk of frozen dairy treats has left me craving some, so I head to the Piako Gourmet Yoghurt stand, where co-founder Logan Jacka and his team are busy handing out samples to hungry customers.
The New Zealand-made yoghurt comes in flavours including passionfruit - the company's most popular product - mixed berry and apple crumble but there are also frozen yoghurt options.
I sampled some of the latter product in mango before finding my favourite - a tangy lime zest creation which was cool and refreshing without being cloyingly sweet.
Logan, who started the business with his brother Shaun, said having a presence at the show was important to the company not only to showcase their products, but also to meet and interact with existing customers.
Like so many other exhibitors I'd spoken with, he had nothing but praise for speciality food stores such as Nosh and Farro Fresh, which he said had been hugely supportive in helping the company raise its profile with consumers. In fact, while many of Piako's products are now stocked in supermarkets, the gourmet range can only be found on the shelves of speciality stores - a deliberate move on the part of the company to help repay the favour.
To round off my tour, I headed to the Tuatara stand, where sales manager Will Cass took on the role of barman and guided me through a tasting of the Waikanae brewery's beers.
From helles Munich-style lager, through Indian pale ale to chocolatey porter, Cass' tasting was part beer-education, part social history and a very enjoyable way to round off the afternoon.
NEED TO KNOW
The Auckland Food Show runs from Thursday, July 28 - Sunday, July 31 at the ASB Showgrounds in Greenlane.
* See eventfinder.co.nz to buy tickets.
* For tickets to any of the hour-long masterclasses with VIP foodies, click here.