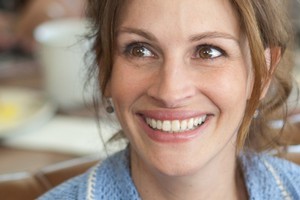 Cosmetics giant L'Oréal has been ordered to stop using pictures of movie star Julia Roberts and model Christy Turlington after an advertising watchdog upheld a British MP's complaint they were overly airbrushed.
Liberal Democrat MP Jo Swinson has run a long campaign against unrealistic images of women in advertising.
Her recent complaints to the British Advertising Standards Authority (ASA) alleged magazine spreads for L'Oréal-owned brands Lancôme and Maybelline featuring Roberts and Turlington were misleading and fake, the Guardian reported.
She complained that images of both celebrities had been digitally manipulated and were "not representative of the results the product could achieve", it reported.
The ASA backed her allegations - ruling both ads breached advertising standards and banning them from future publication in recently released decisions.
It agreed with Swinson's allegation a two-page magazine ad for featuring Roberts for the Lancome "Teint Miracle" foundation was digitally manipulated.
The decision showed Lancome had argued the star had naturally flawless skin and provided pictures of her on the red carpet to support its claim.
Though the ASA agreed Roberts was "well known for her beauty", it found the image was produced with the assistance of post production techniques and those served to misrepresent the product's effects.
"On the basis of the evidence we had received we could not conclude that the ad image accurately illustrated what effect the product could achieve, and that the image had not been exaggerated by digital post production techniques."
A second decision found a magazine ad for "The Eraser" foundation by Maybelline featuring Turlington had also been "re-touched" digitally.
The ad showed parts of Turlington's face covered by the foundation while other areas were left uncovered to show the effects of the product.
Again the company argued the image was consistent with perception of the model as a beautiful woman with a naturally good complexion and provided photographs of her at public events to demonstrate its claim.
But the ASA said the area around the model's left eye had been digitally re-touched and considered the text had drawn particular attention to the product's effect in that area.
"The information Maybelline provided regarding the digital re-touching of the image was insufficient to establish whether the difference between the "blocks" was an accurate representation of the results the product could achieve. We therefore concluded that the ad was likely to mislead."
Neither ad was allowed to appear again in its current form.