Whether you're a galloping gourmet or a domestic novice, Danielle Wright discovers what's new for you at this year's Auckland Food Show.
Join the masters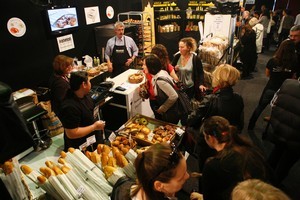 The big news at this year's Auckland Food Show is the hour-long masterclass series. For the first time, you'll be able to have a lesson with your favourite foodies in an intimate VIP room. Choose from:
A taste of Spain: Learn how to cook authentic paella and tapas while sampling a glass or two of Spanish wine.
Meet the meat: Join Dish food editor Claire Aldous and be inspired by recipe ideas, as well as tips and tricks on meat preparation and presentation.
Truffle masterclass: Learn the tricks of making truffles from Annabelle White and Whittaker's. This class will teach you the art of creating truffles at home using quality local ingredients.
Match your food with wine: Sample a carefully selected menu while tasting classic examples of New Zealand wine. Learn how good matching can enhance the flavours of both food and wine.
Cheese experience: Taste, discuss and enjoy Kapiti cheeses in a class covering how to store and serve cheese to bring out the best flavours. Plus tips on matching cheese with food and wine.
* Masterclass tickets are available through eventfinder.co.nz for $35.
Cooking as theatre
If you don't want to pay for a masterclass, there are plenty of food demonstrations around the stands and at the Electrolux Cooking Theatre, which again hosts the big names in New Zealand food circles.
Chefs include MasterChef NZ judges Simon Gault and Ray McVinnie, MasterChef NZ winner Nadia Lim and runner-up Jax Hamilton, Julie Biuso, Julie Le Clerc, Alison and Simon Holst, Lauraine Jacobs, Richard Till, Annabelle White, Australian MasterChef series 2 winner Adam Liaw and many more.
If you were a fan of the Hottest Home Baker, you'll want to be front row for the new Loaf and Weston Milling Baking Theatre launching this year. It's packed with demonstrations about all things to do with baking, including cakes, bread-making, decoration and more.
Celebrity foodies rising to the baking challenge are Al Brown (Logan Brown), Sid Sahrawat (Sidart), Hottest Home Baker runner-up Gretchen Lowe and Loaf's own Sean Armstrong. Demonstrations include cupcakes, Turkish pide, croissants, biscuit towers and sausage rolls.
MoreFM DJ's Jo Cotton and Jeremy Corbett will also take part in the Theatre's Use Your Loaf cookoff where, alongside other visitors to the show, they will compete to create an inspired dish using a loaf of bread and limited ingredients in less than one hour.
Exhibitionists
The reason most of us go to the Food Show? The all-day tastings, of course. This year you can also watch stunts like cheesemaster Neil Willman attempting to make the "fastest cheese in Australasia" with a mozzarella in less than 60 seconds at the New Zealand Cheese School stand.
Living food columnist Grant Allen will be at the SPCA Blue Tick stand, promoting his fabulous Savour recipes, his catering business Cook, and supporting the SPCA's Blue Tick campaign to improve animal welfare in the production of eggs, pork and poultry.
Bella from My Kitchen Rules will be at the Barilla Pasta stand, and there will be show deals, competitions and new products to try, including:
* Frusion, a new range of adult soft drinks designed to make you look like you're having an alcoholic drink, when you're not.
* Edible Blooms, with a range of chocolates arranged in bouquets.
* Lighthouse Gin, made in a handcrafted copper pot using nine botanicals including Kawakawa, Gisborne navel oranges and Yen Ben lemons.
* Bell tea ... for kids. A decaffeinated healthy option when kids want to be just like their parents.
* The Apron Company's matching parent and child aprons.
* New York's Harney & Sons classic tea tins filled with pyramid silken tea sachets.
* Gu Hot Chocolate Melting Middle pud, made of 70 per cent cocoa chocolate and meant to be served hot. Any of the Cuisine Artisan Award winners, including Clearwater Organic yoghurt and Orcona harissa paste.
Also look out for regional groups and international stands, including pavilions from Clevedon Farmers' Market, Kumeu, Hawkes Bay and Southland, as well as top exhibitors from Bulgaria, Japan, Malaysia, Mexico, Spain, Sri Lanka, Thailand and the South Pacific.
* The Auckland Food Show is at the ASB Showgrounds in Greenlane on July 29, 30 and 31. A preview day with limited tickets available is on July 28. For tickets, see eventfinder.co.nz.