Fresh-caught fish needs little in the way of cooking. Simple flavours and cooking it whole preserves the taste and is the best way to enjoy this bounty from the ocean.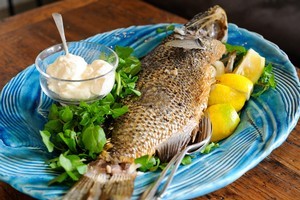 My Grandfather was a recreational fisherman, surfcasting for fun, collecting pipis and salting them down in Agee jars to use as bait. Growing up in Christchurch, fish was rarely cooked at home. I was always slightly suspicious of fish. I learned to cook fish well at Pierre's restaurant in Wellington - simply grilled or pan fried, finished with a cream, fish stock and fresh herb sauce. I warmed up to fish.
Later, I lived in Coromandel Town and fell in love with fish. Straight from the water, so clean and fresh, you could eat it raw with a slick of soy sauce. It spoilt me forever and now I turn up my nose to any fish but the absolute freshest. I rely on fishing friends for a supply.
Buying a whole fish at the fish market is a jump ahead of buying fillets from the fish shop. It's an economical way of buying fish and cooked whole it makes great table presentation and is a rustic way to eat the catch.
You will pay for the whole fish in weight, but the market will gut, scale and fillet it for you at no extra charge.
If you're not sure which fish is best or freshest ask the person behind the counter, they love talking about their product.
Smoked Whole Fish
1 Buy a 2kg whole fish and get it gutted and scaled.
2 Buy some manuka smoking sawdust (from fishing supply and hardware shops).
3 Take a baking dish, line it with tin foil, sprinkle a thin layer of sawdust on the base, and place a cake rack in the pan over the sawdust .
4 Stuff the cavity of your fish with lemon slices, herbs, salt and pepper, and dab some butter or oil inside the cavity and on the top of the fish. Sit it on the rack.
5 Seal the whole dish by wrapping it well with tin foil.
6 Put it on an element and turn up the heat for 5- 10 minutes, which will set the sawdust smoking.
7 Place the sealed dish into a moderate oven for another 20 mins. When you remove it and unwrap it you will have a whole smoked cooked fish.
Serve with lemon wedges, prepared horseradish cream mixed with sour cream, some baked potatoes and a salad.