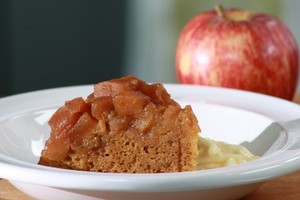 25g butter
8 tbsp Freshfields Apple Syrup
4 apples, peeled, cored and cut into small cubes
85g Freshfields Apple Sauce
100g muscovado sugar or caster sugar
1 lemon, zested
2 eggs, beaten
125g plain flour
2 tsp baking powder
1. Grease a 1.2 litre pudding basin. Fill a large pan halfway with water and bring to the boil.
2. Melt 6 tbsp of apple syrup with butter in a frying pan. Let everything bubble together for a couple of minutes then add the apple and cook for a further 4 minutes.
3. Beat together apple sauce, the sugar and lemon zest in a large bowl with electric whisk then beat in the eggs, flour and baking powder until combined. Stir in the rest of the syrup.
4. Put the apple mixture into the pudding basin and spoon over the flour mixture. Cover with a lid and place into the large saucepan and cover that. Turn the heat down to a simmer. Cook for 1½ to 2 hours. The pudding is cooked when you can insert a skewer and it comes out clean.
Turn on to a plate and serve with custard.
Important Note: Take care not to overfill the pot with water. When it boils the water level rises and could splash into the pudding bowl.