There are few things quite as indulgently wonderful as chocolate. As a sweet treat it can't be beaten.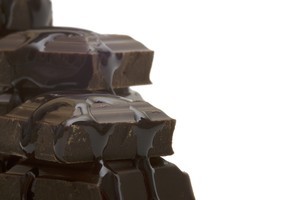 It has been a wee while since I dedicated these pages to chocolate, so I figured it was high time - after all everyone needs a decent dose of the good quality stuff now and again.
By good quality, I am talking about plenty of cocoa solids which means rich, dark chocolate that begins to melt as soon as it touches the warmth of your mouth.
Good quality chocolate will have cocoa solids of between 45 and 80 per cent, but the higher the percentage the higher the cost, so buy the best you can afford.
If you see the words couverture or compound on the packaging when trying to choose, I suggest you choose couverture.
Compound chocolate is less expensive because of the amount of cheap oil added to the mix to make it go further. The oily flavour is definitely discernible, and it's such a shame to deter from the true flavour of the cocoa. Apart from the flavour, in my experience compound chocolate doesn't melt well and can often split.
On the other hand, couverture chocolate has a pure cocoa flavour and quickly becomes rich and silky when gently melted.
While the wind and rain is whistling around the garden, I have been thinking of warming chocolatey recipes.
A good chocolate mousse recipe is always welcome but is more delicious when paired with caramelised oranges and a little lavender to spoon over.
Bread and butter pudding is one of those classic winter desserts that everyone loves. If you use buttery croissants instead of white bread, then sprinkle the magic ingredient over them, the pudding will be filled with melting chunks of chocolate and will be much lighter than the original version.
Chopping up chunks of chocolate and toasted hazelnuts then wrapping the mixture in sheets of buttered filo pastry, making cigar-like tubes and baking until lovely and golden, is a bit of a take on the nutty baklava. The flavour of chocolate with hazelnut is one I love. In this recipe the chocolate melts into the hazelnuts while the filo pastry stays crispy. All that is needed is a little dusting of icing sugar and a spoonful of softly whipped cream.
Chef's tip
When melting chocolate, roughly chop or grate it first. Chocolate needs to be melted over a gentle heat, preferably in a bowl over simmering water. If too hot the chocolate will split and burn. A microwave works well as long as you heat gently. Chocolate only needs to be warm to melt.