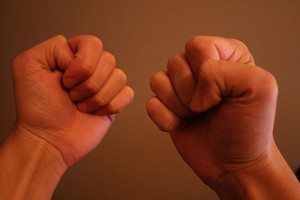 At first it was a little tingling. Then some numbness, some shooting pains. After that, dropping things became the norm.
I've now progressed to waking three or four times a night with fingers that feel like they've been slammed in a car door, along with massive pain radiating up my arm. I toss, turn, put my hands up, put them down, bunch them up, punch the pillows and walls, and groan with agony.
Finally I get out of bed and flap my arms like an angry seagull. And none of it works.
If the various indignities of late pregnancy aren't enough, I have developed a case of carpal tunnel syndrome that tests my very wits. The pain is excruciating and seems to get worse every night.
I know that late pregnancy is mother nature's way of training the mother-to-be in that brutal art of getting up all night long - trips to the toilet, tossing and turning as the baby does flip-flops, trying to remember to sleep on your left side so as not to cause stillbirth, and the like.
Not to mention the art of heaving yourself back into bed like a beached whale, occasionally - inadvertently - connecting one part of your anatomy with your slumbering husband's (mine accused me of socking him in the jaw the other night as I flounced around trying to reposition my massive girth).
So, yes, there's the inbuilt training for the constant waking. But add to that, in this house at the moment, a child who has a cough that literally goes all night long, and - by virtue of the fact she is very young - can only sleep soundly when sick by sleeping in the master bedroom.
The child hacks in my face like a distressed baby seal all night, while I'm also waking up at other intervals wincing at my swollen, throbbing hand, worrying about the obstetrician telling me the baby is going to be enormous, and wondering if, at the age of 38, I am up to the task of looking after three small children without losing my sanity.
So yes, mother nature, I do consider myself fairly well trained for at least the constant-night-waking part.
My CTS will probably go after the baby is born - pregnancy puts extra pressure on nerves feeding into the hand - and so with any luck the whole thing might go away and I may stopping dropping scalding water and hot oil on myself... or whole bags of breakable shopping.
I certainly hope so anyhow, before the nappy-changing, bathing and carrying phase of new babyhood begins.
But it's hard not to feel a lot of sympathy for those with more permanent cases of the condition, when the most simple tasks must become incredibly burdensome and difficult.
All suffered alongside the kind of pain that often accompanies major surgery and knowing that all the arm flapping and wall punching in the world will do absolutely nothing to help.