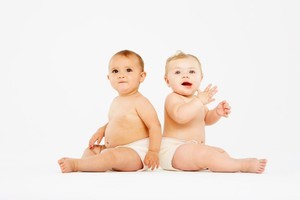 There's a perennial debate as to whether certain sex differences in children are innate or learned. Blue or pink? Toy trucks or dolls? Slugs and snails and puppy dog tails or sugar and spice and all things nice?
Does our own behaviour and social conditioning push our child towards particular objects and behaviours or are they programmed to naturally choose these things for themselves?
Gender-based stereotypical views of babies and small children are widely frowned upon. It's said we're inclined to sympathise and mollycoddle a wee girl who grazes her knee but tell a little boy who does the same to harden up.
I'm not sure that this is a universal approach but there are certainly people who respond in markedly different ways to children based on their sex.
Petit Bateau, a French company which has clothed children for 118 years, has been sternly told off by feminists for a new line of bodysuits for babies.
As The Times (UK) reported in June: "One garment has words in pink lettering including pretty, sweet, greedy, in love, beautiful and stubborn. The other has blue lettering and words such as brave, strong, proud, robust, valiant, determined and cool."
It's an aversion to such blatant conditioning that inspired a Toronto couple to keep the gender of their last child, Storm, a secret.
Unsurprisingly it's a move that's been widely criticised and accompanied by predictions that Storm will grow up confused and troubled.
However, the couple is defiant, intent on the child discovering his or her likes, dislikes and personality traits for him- or herself.
As parents we inevitably, often unintentionally, inflict our preoccupations and prejudices onto our children but using them as a real world experiment seems to be taking parental freedom several steps too far.
Interestingly, the latest research supports the belief that boys and girls are wired differently. Indeed there are sufficient differences in brain development to lead some educationalists to recommend that young children be taught in single-sex classrooms.
In 2008 I wrote an article entitled The Sex Divide for the Herald on Sunday about American educationalist Dr Leonard Sax, author of Why Gender Matters and an advocate of single-sex education.
His stance was based on the discovery that different parts of the brain develop at different rates depending on gender.
My article said: "The areas of the brain associated with language and fine-motor skills mature about six years earlier in girls than boys. The areas of the brain associated with maths and geometry mature about four years earlier in boys than girls."
The ramifications of this are significant. On this basis, whatever is taught in a co-ed classroom is likely to create dissonance with about fifty per cent of the students. Sax thinks that five, six and seven-year-olds are those who will benefit most from sex segregated classrooms.
Yet co-ed classes are the life-blood of most primary schools throughout the country. Perversely, it's only at secondary school - just when the experts believe that learning differences between genders are not so marked - that single-sex education becomes more widely accessible.
Sax also believes that in addition to brain development, there are other differences that would suggest separate learning environments for boys and girls.
As I reported three years ago, young boys may well learn best standing up (sitting is optional in the boys' classrooms in some US schools), in noisier environments, at a temperature of about 20-degrees C, under cool lighting and in shorter concentrated bursts followed by physical activity.
Their female counterparts, on the other hand, prefer to sit down, a temperature of about 23-degrees C, warm lighting and are able to sit still for longer periods of time.
Although most New Zealand primary schools are co-ed, there's still the opportunity to reflect these findings.
Sax recommends introducing single-sex classes, specifically tailored to accommodate the differences between boys and girls, into co-ed schools to give our children the best possible start to their educational life.