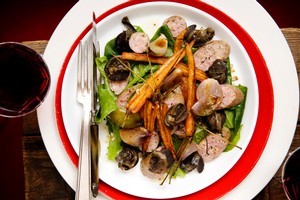 Serves 4
Vinaigrette
1 cup olive oil
1/3 cup white wine vinegar
3 tsp Dijon mustard
Pinch caster sugar
1 garlic clove, finely chopped
Salt and freshly ground black pepper to taste
12 shallots
Olive oil
1/4 cup white wine
Salt and freshly ground black pepper
3 toulouse sausages
4 handfuls of salad greens
snails
1. To make the vinaigrette; whisk all the ingredients together thoroughly.
2. Preheat the oven to 200C. Separate the shallots and peel. Toss with olive oil then place in a baking dish. Pour over the wine and season. Cook for approximately 30 minutes or until soft. Let cool.
3. Heat a frypan. Add 1 Tbs olive oil then the sausages, cover and cook, turning occasionally until brown all over and cooked through. Let cool before slicing.
4. Arrange the salad greens on plates. Top with the shallots and slices of sausage. Drain the snails and add with a decent drizzle of vinaigrette.