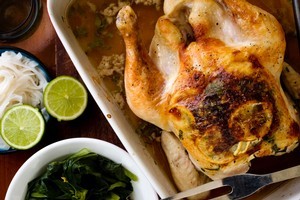 Serves 4
1 x size 14-16 free range chicken
2 lemons
2 cloves garlic
2 tsp fresh ginger, finely chopped
1 Tbs fresh coriander, finely chopped
1 cup chicken stock
2 Tbs soy sauce
1 Tbs mirin
Choy sum
Rice noodles
Mushrooms
1 Preheat the oven to 200C. Place the chicken in a roasting dish. Slice the lemons finely then place under the skin on the breast of the chicken.
2 Crush the garlic and ginger together. Add the coriander and combine to make a paste. Place this under the skin with the lemon.
3 Roast for 1 hour. Reduce the heat to 170C. Combine the chicken stock, soy and mirin, pour over the chicken and continue to cook for another hour.
4 Serve with steamed choy sum, rice noodles and a selection of mushrooms, while using the chicken cooking liquid to spoon over to add flavour.