A luncheon in Auckland next week celebrates the achievements of successful female leaders in the Australasian wine industry.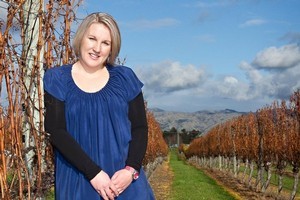 After being something of a boys' club historically, winemaking has been transformed in recent decades to a domain where women are now behind some of the world's most exciting wines. Next week, the inaugural Women in Wine Luncheon held in Auckland will be celebrating the achievements of some leading ladies of Australasian wine, exploring both the successes and the challenges they've experienced in their careers to date.
New Zealand has already seen its women of wine band together in the independent and separate Women in Wine group, founded some years back for professionals. However, next week's event organised by wine distributors, Hancocks, is the first of its kind open to women with an amateur interest in wine. At its centre are three female stars of Hancock's portfolio: local winemaker and owner of the eponymous label, Jules Taylor; Allan Scott viticulturalist, Sara Scott; and Australian winemaker, Helen McCarthy from Taylors.
"The male dominance is changing within the industry," says Scott. "I seem to be dealing with more females than when I first began in the industry, from auditors to sale reps.
Some of the best winemakers in Australasia are females and are dominating the headlines all around the world!"
It's a similar story across the ditch, where McCarthy also observes that times have changed. "I think that female winemakers such as Sue Hodder and Pam Dunsford really broke through the boys' club and by the time I joined, female winemakers were generally well accepted."
Nevertheless, there is still a bias towards males in the industry. This can be seen in the 61/39 split between males and females currently enrolled in the oenology and viticulture courses at Lincoln University, one the country's major centres of wine study. These figures have also remained surprisingly static over recent years.
Women involved with wine still also face hurdles related to their gender. McCarthy describes how she initially had some issues with baby boomer cellar hands who found it hard to take orders from a young woman. However, with time she found that "once you show them respect, they generally come round".
Scott recalls her frustration of being relegated to less physical tasks when starting out in vineyard work. Its physically demanding nature means it's still very much a male realm. "It can be a very physical job and you have to be as fit and strong as male counterparts to do the work," she says. However, Scott admits that she loves the fact she works in such a male area and obviously enjoys its challenges, such as her current quest to get her Class 4 heavy vehicle licence. This will make her one of the rare female harvest truck drivers.
Taylor's experiences as a woman working in wine have largely been very positive. She acknowledges that throughout her career her male colleagues have been very supportive and being a woman has had its benefits.
"Looking at it now from where I find myself, with my own wine company, the fact that I am female actually allows more freedom and provides openings that might not have otherwise presented themselves," she comments.
It's often been suggested that men and women work in different ways and running her label with her winemaker husband, George Elworthy, Taylor is well positioned to comment. "Personality comes into this," thinks Taylor, more so than gender, in the organisational skills essential to deal with the logistical side of the job. "Women may be a little better at this. While George interprets deadlines literally, I prefer to line up my ducks ahead of time; but that said, some men I have worked with are experts in this area." Another hot gender debate within wine is whether women are actually better tasters than men. Females are certainly more likely than males to be super tasters - those who possess more taste buds and experience taste more intensely than most - while female sex hormones appear to make women of childbearing age in particular more sensitive to smells, which are arguably the most important sense in wine appreciation.
However, McCarthy hasn't witnessed much disparity in her experience. "Generally, I find that there are not specific differences between males and females," she says, "but rather between tasters, irrespective of gender".
Perhaps a more marked divergence between the sexes is the way women communicate about wine. One study found that women were more adept at talking about what they were tasting than their male counterparts, which is something that McCarthy has certainly noticed.
"One thing I really enjoy about being involved in initiatives such as the Women in Wine Luncheon, is that females are generally more receptive to new styles and more descriptive when discussing the wine," she says, observing that what women are interested in talking about at tastings also differs.
"I find that at a female-dominated tasting there is more debate and conversation about the wine and the inspirations behind the wine," she says. "At mixed tasting you need to be mindful that a significant portion of the group may not be interested in how making the wine makes you feel!"
Providing a female-focused environment in which to taste and converse appeared to have a number of positives for participants. "I think that sometimes women at mixed gender events are hesitant to ask questions and engage in conversation with winemakers," says Taylor, who also suggests that it could make commercial sense.
"Being over 50 per cent of the population, women form a major market segment. If we can provide a more convivial atmosphere for women to experience wine in, however that may be achieved, then I'm right behind it," she states.
"I think that these events are a fantastic opportunity for women to become a part of something with other like-minded women," thinks Scott, "Somewhere women are able to share their passions with others on their same wavelength and are able to encourage each other in a manner that females do best."
"As a female winemaker, I feel it is vital to share your knowledge, skills and enthusiasm for working in wine with other women and learn from their experiences," says McCarthy. "The wine industry has so much to offer women and whether you are a winemaker or simply a wine lover, this event is a great opportunity to come along to be entertained by our stories, sample some award-winning vino, and raise a toast to the future of women in wine."
* The Women in Wine Luncheon will be held on Wednesday June 29 from 12pm to 2.30pm at the Longroom, 114 Ponsonby Rd. Tickets are $45 and include a three-course lunch matched to wines from the Taylors Wines, Allan Scott Family Winemakers and Jules Taylor Wines ranges. To make a reservation, call the Longroom on (09) 360 8803.
VIP Viva
We are delighted to have a double pass to the Women in Wine event to give away, as well as a case of wine from the Taylors Estate Range valued at over $250.
To go in the draw, send your name, address, contact phone number and date of birth to vipviva@nzherald.co.nz with "Women in Wine" in the subject line. Entries close 5pm, Friday June 25. The winner will be contacted on Monday June 27. Proof of age will be required at the event.