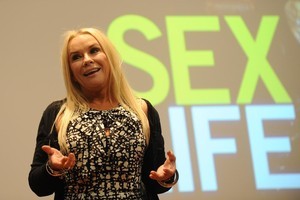 It would be fair to say even the most fleeting thought of Gran and Gramps getting their groove on is an image many of us could do without.
But a new book reveals that sex in the twilight years can be supremely sensual and satisfying.
In fact (brace yourself), some frisky 90-year-olds are said to be nibbling on a lot more than shortbread.
Sex Life: How Our Sexual Experiences Define Who We Are is a compelling and insightful peek at human sexuality from the womb to the tomb.
Sex therapist Pamela Stephenson-Connolly - married to Scottish funnyman Billy Connolly - spent 18 months gathering hundreds of first-hand accounts from people across the Western world, including New Zealand, where she was born.
Dunedin proved itself suitably aroused on Wednesday night, with more than 400 people turning out as Dr Stephenson-Connolly threw back the covers and talked about S-E-X.
Her over-arching theme is that sexual expression is natural and available for whoever wants it, as long as they want it - provided it's "safe, sane and consensual".
Individual tastes and influences, along with life's inevitable upheavals, shape our sexual preferences and appetites, both of which can change as we grow older.
"Change" doesn't necessarily mean diminish.
"We can be enjoying sexuality until the day we die if we want. It's exciting, it's comforting, it's a source of pleasure," Stephenson-Connolly says.
And good humour. A 93-year-old she met quipped: "I know I had the wildest sex imaginable last night. Next morning, I had to see my doctor. Not because it hurt - but with my Alzheimer's I needed help remembering it."
Sex Life chronicles a diverse range of sexual experiences and fantasies, including those of hormonally-supercharged teens, experimental 20-somethings, exhausted parents and bored married couples.
To be blunt, it's a smorgasbord of saucy thoughts, shagging and self-pleasure, which Stephenson-Connolly confesses kept her "permanently horny".
"As a sexuality professional, I tend to think a lot more about sex anyway. At the same time, I'm an alive, human, sexual being. I'm not protected from being sexually stimulated."
Which is her point, really. We're engineered with sexual urges of varying degrees and how we acknowledge and act - or don't act - on them has a profound impact on our lives.
Most provocative, perhaps, is her examination of the fringes of the age spectrum.
Childhood sexuality, she says, is real and healthy - even if some parents are shocked and upset by it. Ultrasounds have shown male babies with tiny erections and boys and girls as young as 6 months old have been observed gratifying themselves.
The book relies on adult memories of their own or their child's arousal and curiosity.
"One night our 7-year-old son was lying in bed and we were just about to say goodnight when he summoned us excitedly,"one parent recalled.
"'Quick, come here!' We went in and saw that he was lying naked, with just a sheet over him. He had an erection and was making the sheet go up and down while he went, 'AROOOOGA!' - making a sound like a horn from an old-fashioned Model T Ford each time the sheet went up. He was delighted with his new toy. We didn't make a big deal of it. We just said, 'Good trick! Now go to sleep.' But we laughed really hard afterwards."
A perfect response, Stephenson-Connolly says. A reprimand or any show of disapproval risks creating a sense of shame and confusion that can be carried into later life.
She says parents can often be scared of their child's emerging sensuality. Helen Mounsey, South Island regional director for Sex Therapy New Zealand, agrees.
"We, as parents, are unable to handle this. We are silenced in so many ways ... it's a source of joy, but it's not allowed to be a source of joy."
Mounsey welcomes the release of the book.
"Anything that celebrates a child's response to their normal bodily urges - sex being one of them - can only be good for the parents and it can only be good for the children, to prevent the shaming of their joy as they discover their sensuality and sexuality as an adult."
Tackling the myths and getting people talking was a motivating force behind Sex Life. Bombarded as we are by titillating fleshpots on the big and small screens, billboards, glossy magazines and social media, it's easy to believe everyone's constantly at it like monkeys on a trapeze.
"I hope it will be clear that there is a rich tapestry of normative human sexual styles and that we should avoid being judgmental about the sex lives of either ourselves or others," Stephenson-Connolly says.
"Including those of older adults."
Mounsey has noticed the age of those seeking sex therapy is "slowly creeping up". Sometimes the fact that it's slowly creeping up, or not creeping up at all, is what leads men to look for help. For women, it can be navigating menopause.
"The wonderful thing about old-age sex is that once they're over the performance issues, couples can achieve greater intimacy and closeness and warmth and affection than the 30 or 40-year-olds."
By necessity (creaky joints, for example), or in a spirit of adventure, repertoires are often expanded.
"In place of intercourse you have 'other course'," Mounsey says.
"There's so much more to enjoy and rely on."
Time and the relative lack of outside pressures can be a wonderful aphrodisiac, as one of the respondents in Sex Life explained: "Once our youngest left home, there was finally some 'us' time. It was hard to get used to no one knocking at the door, no school 'emergencies' and no chauffeur duties. We looked at each other one day and said, 'Why are we sitting here watching TV?' We started having slow, lazy sex - and we didn't even have to close the door. It felt decadent and delicious, and it's been that way ever since."
(Compare that to a parent in the book who described "thrashing about" to finish "before the kids come barging in ... it's definitely got shorter since they got old enough to know what we're doing!")
And this, from a woman in her 60s: "Honestly, it's such a relief now to be beyond all that preciousness. 'Is my tummy hanging out?' 'Is my backside too large?' At one point my lover said to me, 'Look, neither of us is 25 anymore - let's just enjoy ourselves!' It was so freeing."
At 61 and conspicuously wrinkle-free, former sex bomb comedienne-turned sexologist Stephenson-Connolly (she made her name in the hit British show Not The Nine O'clock News) is - much like her free-spirited hubby - not the type to embarrass easily.
Last year she dropped some 16kg hot-stepping her way to the final of Britain's Strictly Come Dancing.
Stephenson-Connolly, though, is quite the burlesque performer when it comes to personal revelations, teasing with tidbits and never revealing all.
She'll happily talk about the ins and outs and ups and downs of human sexuality, while leaving her own bedroom door only partly ajar, describing Connolly in the Daily Mail newspaper as "a wonderful lover".
She's reportedly never quizzed him about his fidelity while on the road and describes monogamy as "hard for anybody".
Making sure your partner is being safe with their sexuality is more important than worrying about an occasional "dabble," she counsels.
She and Billy have five grown children between them. Touring and travel keep the couple apart for often months at a time. Phone sex, she admits, helps keep the spark alive.
They've been married 21 years, with no apparent fissures.
Naturally people are curious about their love life.
It's hard to know whether Stephenson-Connolly is a business-savvy provocateur or simply dealing with the intrusions brought on by celebrity as best she can.
With a hint of exasperation, she opens the door to her boudoir a little wider.
"We've been together for 30 years. We're very comfortable with each other. We trust each other, but we spend a lot of time apart.
"I'm sure that all kinds of possibilities arise for him. He's a famous, sexy man. I don't think for a minute he's getting off with groupies or anything like that - but if he was, I think I'd be quite forgiving."
Are the blokes still hitting on her?
She likes to flirt, sure, but that's where it ends.
"People know who I'm married to. They're not going to go there. They don't want to be head-butted by a raging Scotsman."
- OTAGO DAILY TIMES