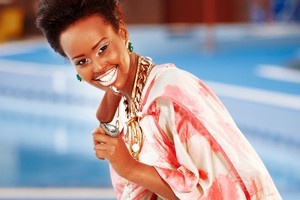 Off with her locks, Sara Tetro orders. She wants to see the inner chameleon. And with that, Tyne's long, lank hair is fashioned into a stylish crop.
The meek child turns murderous, "I feel so ugly," she moans. One and a half-episodes down, the Arrowtown teen wears the badge of this year's diva. The others show more grace. "Yeah! A free haircut man," says Issy, and thumbs-ups Paul Serville's decision to take a razor to half her head.
High Street haircuts help the contestants adapt to their surroundings, which, this year, include an LA-style Hummerzine and penthouse in Auckland Viaduct, complete with $300-a-metre wallpaper, sprinkles of freebies and a random girl in her bikini in the spa pool. That production stunt fell flatter than ironed hair. There the girls were, racing around their new "dope, as in really good" apartment, shrieking like kids at recess, when they realised they had company.
Welcome, Holly, the bubbly wild-card voted in by the public. The other 13 were "fully prepared to hate her guts," admits AJ, the scatty one who likes to blubber.
But then they all have a drink (which looked like juice) and everyone agrees that Holly is really "lovely". The camera likes her too. It's not so keen on last week's delicate darling Brigette, who fails to look "groovy" at Parnell Baths.
And turns out it's not easy to sell an icecream. It gets all over your teeth and can scream the wrong thing if you hold it at a compromising angle.
Still, Aminah, with her bright, pearly Somalian smile thinks she's aced the challenge. It will be sad to see someone leave the nest, she says, as they enter the first elimination.
Yanna, whose makeover turned her from bush-woman to the height of sci-fi sophistication emerges as the judges' favourite this week. Resident crazies are also applauded; Bianca is channelling Joan Jett now that she's lost her mullet and Arihana, who is now a brighter shade of tangerine, just needs to learn to love her big "snoz".
Aminah is a little puzzled as to why she is sent packing, because she always thought it was good to be confident. But even cold rejection doesn't stop her smiling.
What: New Zealand's Next Top Model
When and where: Friday, 7.30pm, TV3