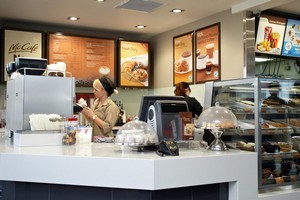 An announcement that McDonald's is to apologise for the quality of coffee in its New Zealand stores has sparked passionate debate amongst nzherald.co.nz readers.
McDonald's Australia chief operating officer, Helen Nash, yesterday admitted to The Australian the coffee in the chain's Australasian stores had suffered from poor quality and poor barista training.
Responses have flooded in to a call for opinions on whether McDonald's offers a quality coffee product on the nzherald.co.nz Facebook page.
Many agreed the coffee served from the chain's stores was not up to standard.
Jillian Wiggns offered the the straightforward assessment "God Awful!!!! And never hot!", Melanie Layton said "AWFUL! I never get coffee from there because it sucks" and Samantha Pasiley said the coffee "usually tastes like coloured water... and that's on a good day".
Cosmin Albu was even more direct: "Horrible."
Many were more divided on the reason for the quality issues - some blaming it on the staff and others on poor equipment.
Linda-Joy Warwick Dudley blamed poor training for her recent bad coffee experience, though she said she didn't complain "as I didn't want to make the barista feel bad".
Jake said "I work at Mcdonalds, and the training is crap" and Christine Mcdonald claims "coffee at Maccas is terrible.. need to train the staff better".
But Liz Jarman defended the staff's ability, saying "it's the coffee......change the coffee" and Meagan Foreman believes "if they cleaned the machines it would taste different".
A few defended the quality of their local McDonald's outlet, with the Orewa outlet getting the thumbs up from Kylah Sala'a, who says the "coffee at the Mccafe is always lovely, as are the staff that work there..." and others saying the quality was at least better than the product at the average Starbucks store.
US residents thought the whole debate was a little rich, given the quality of the coffee at their stores.
Amanda Purchon said: "It is better than what you get in the USA at mcdonalds. You get the watered down version here."
Leonie O'Shea Strutton challenges New Zealanders to "try drinking the crap they serve here in America, then you'll think it's awesome", while according to Gabriel Boyd "No coffee can possibly be as bad as American McDonalds coffee."
But the final word on the debate goes to Paul GAllen, with the simple advice: "Drink more tea".