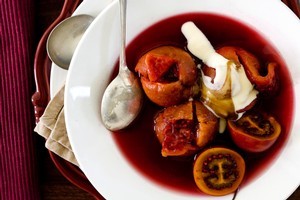 Serves 4
8 tamarillos
3 cups water
1 cup riesling
1 cup brown sugar
1 star anise
1 tsp vanilla extract
1 cinnamon stick
Caramel sauce
1/4 cup water
1/3 cup caster sugar
2 cups cream
Cream, softly whipped, to serve
1 Cut a cross on the end of each tamarillo with the point of a sharp paring knife.
2 Pour water and wine into a saucepan. Add sugar, star anise, vanilla and cinnamon. Add tamarillos and bring to a gentle simmer.
3 Simmer for 30 min. Remove tamarillos and let cool. Keep the syrup simmering for a further 15 min before turning off. Peel the skins from the cooled tamarillos then return to the syrup while making the sauce.
4 Put the water and sugar into a small saucepan and bring to a boil. Boil without stirring until dark golden. As soon as the colour is reached, pour in the cream, turn the heat off and leave to simmer for 2-3 minutes. Stir to create a smooth sauce.
5 Return the tamarillos and syrup to the heat, warm together then serve in bowls with the caramel sauce and cream.