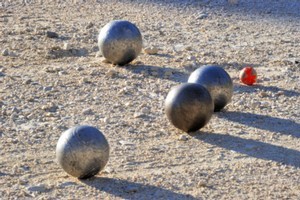 Petanque is a game anyone can play and you don't need much equipment - if you have your own boules you can play anywhere. Visit a local club or venue to learn how.
1. Mt Albert Vikings Petanque Club
Gribblehurst Park, 203 Sandringham Rd, Mt Albert, ph (09) 527 3877 or email gvakauta@ellis.co.nz
The Mt Albert Club is one of the newer clubs in Auckland but "the strongest and best" says its president Georgio Vakauta who has a list of national and regional titles to his name. The club has about 18 members and is looking for more - especially young players, says Georgio. During winter they play on Saturdays from 1pm-4pm, depending on the weather, and in summer, they play Thursdays from 5pm or 5.30pm till 7pm.
2. Cockle Bay Petanque Club
Shelly Beach Parade, Cockle Bay, Manukau, ph (09) 273 3106 or email warrenbarrett@xtra.co.nz
It's worth joining the Cockle Bay club for its enviable setting - it looks out across the water to Waiheke Island and Beachlands. The 50-strong club has been going for about 15 years.
Members play twice a week on Wednesdays and Saturdays.
3. Wild on Waiheke
82 Onetangi Rd, Waiheke Island, ph (09) 372 3434
Wild on Waiheke is a a multi-activity venue with a cafe. The vineyard venue offers petanque and also archery, a giant outdoor chess set, laser-bird shooting and a tasting room. "Have a glass of wine or beer while you play petanque," says co-owner Karen Webb.
4. Stanley Bay Petanque Club
20 Stanley Point Rd, Devonport, ph Charles Parley, ph 09 445 2517, parleys@xtra.co.nz
The Stanley Bay club has a small membership and is part of the bowling club, with its beautiful setting in Ngataringa Bay looking out over the water. President Charles Parley "well kind of president ... we don't really have structure, my wife and I run the club" have just a dozen or so players and Charles says they are keen to recruit more. During the winter they play on Saturdays from 2pm. "Our members are in the higher age range, but it is a great sport for younger people. Plus we have the clubrooms and and the bar which always attracts people to the club."
5. West End Petanque
West End Bowling Club, 9 Hamilton Rd, Herne Bay, ph 09 827 9973, email info@petanque.net.nz
The West End Club's youngest player is just 8 or 9 nine years old and there are players right through to their 70s. The central location, shared with the bowling club, makes it a popular spot. New players are encouraged along, with a guarantee that existing members won't laugh at them. Club day is Sunday from 10am.
* For information on more petanque clubs, visit petanquenz.com or aklpetanque.org.nz