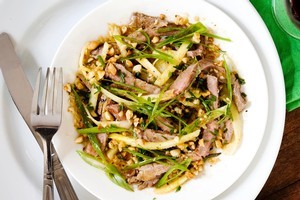 Serves 4
4 x scotch fillets
2 garlic cloves, peeled and finely sliced
2 Tbs soy sauce
2 Tbs mirin
1 tsp sesame oil
1 Tbs rice bran oil
4 slices of pineapple
1/2 cup salted and roasted peanuts, finely chopped
1 spring onion, finely sliced
1 Heat a fry pan until hot. Mix the beef with the garlic, soy, mirin and sesame.
2 Sear in the pan for two minutes on each side. Let rest for five minutes.
3 Wipe out the pan then reheat. When hot, add the rice bran oil then the slices of pineapple. Cook for one minute on each side or until golden. Slice.
4 Arrange the slices of beef with the pineapple, peanuts, spring onions then drizzle with the leftover pan juices.