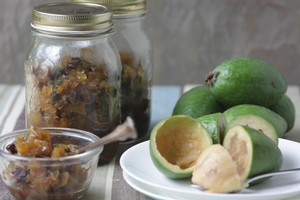 1.5kg feijoas, peeled and chopped
1kg onions, peeled and finely diced
1/2 cup crystallised ginger, diced
2 cups currants
2 cups brown sugar
1 tsp mixed spice
3 kaffir lime leaves, julienned
3 tsp curry powder
1 litre cider vinegar
In a large pan combine all ingredients, stir to the boil. On the lowest heat, simmer until thick. Pour into sterilised jars and seal once cool.