If you don't have tasty feijoas to harvest, odds are your neighbour does, if you ask nicely.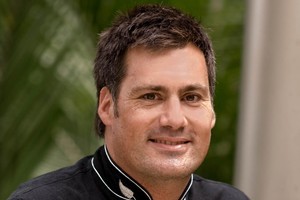 It's that wonderful time of year again when everyone's fruit bowls are filled with the feijoas that have been falling off the trees for the past few weeks.
In sunny Kerikeri, where I lived until recently, feijoas are bagged up and sold for a donation at the front gates of enterprising homeowners. Now I'm in Auckland, my walk home from work along the pavements of Grey Lynn is littered with green shells fallen from trees and hedges - often in a trail to the school gates.
Native to South America, and most common in the mountainous regions, feijoas are also known in other parts of the globe as the pineapple guava or guavasteen. Indeed, the flesh has many similarities to its close relative the guava, in the pulp's opaque flesh and gritty texture.
Feijoas were introduced to New Zealand in the 1920s and, in our ideal climate, produce abnormally large fruit, while the relatively few pests mean the fruit can be grown organically. The down side from a marketing perspective, however, is the fruit's limited shelf life. Feijoas are generally at their perfect stage of ripeness when they fall from the tree and can become overripe within just a few days.
If they're picked before they fall naturally, they can be bitter.
Mature feijoas are packed with high levels of vitamin C and can be stored in the fridge for up to a week, rotating daily. Once the fruit is peeled, immediately dip it into lemon water to prevent the flesh going brown. They can also be frozen for up to a year without any loss in quality.
I suggest tossing the peeled pieces with lemon sugar syrup and placing into a sealable plastic, with the air expelled. Simmer in water until the flesh is soft. The juices from this cooking method are intense and luscious as there is no evaporation.
Feijoas' wonderful firm pulp also makes delicious chutneys and jam, pie or crumble fillings, or can be used to replace any stewed fruit base in other recipes. When baking, substitute equal amounts of pulp to replace banana in your favorite muffin or cake recipe and you will have perfect feijoa muffins or feijoa cake.
In the beverage department, we have all seen the popularity of the feijoa in retail organic juices, fruit smoothies, fruit-infused vodkas, ciders and sparkling wines.
Lothlorien Feijoa Winery in Warkworth has made feijoa wines a huge success story.
This boutique business, which started experimenting with home-made fruit wine as a solution to an abundant harvest, has never looked back since the 80s when it featured on an international television documentary series.
With a cabinet full of medals and trophies, it produces sparkling feijoa wines which are refreshing and provide a delightful way to enjoy this wonder fruit all the year through.