Family treasures helped create a stunning, unique cookbook with nostalgic appeal. By Kerri Jackson.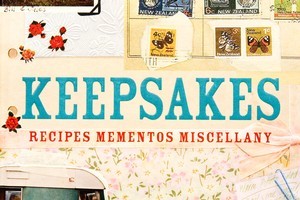 If Pippa Middleton was stuck for ideas on what to get, Kate, the "sister who has everything", as a wedding present, she could have taken a leaf from the book of Auckland artist Frances Hansen.
When Hansen's own sister, Sydney fashion designer Fleur Wood, got married in Sri Lanka several years ago, Frances was stumped for a wedding gift. Wanting to give her something unique and personal, Hansen gathered together old family recipes, often typed and scrawled on scraps of paper, into a book along with copies of her own artworks, photographs and other graphic flotsam.
Though she knew her sister would love the family history and recipes, Hansen was a little taken aback by the reaction it got from her sister's friends.
"They all really related to it, which I didn't expect because they're all about 15 years younger than me."
That reaction, and her sister's encouragement, persuaded Hansen to put together another, similar book for publication.
The result is Keepsakes - a recipe book quite unlike any other, one which manages to be both an intensely personal record of family recipes, images and art, as well as something with a much broader nostalgic appeal.
Recipes for family favourites such as scalloped potatoes and curries sit alongside Hansen's paintings, and surrounded by old shopping lists, receipts and printed tea towels. Photos of her and her sisters in matching pink cardigans are in amongst brightly coloured Indian postcards.
It's as much a coffee-table book, in which you spot something new each time you look at it, as it is a celebration of family cooking.
"I had no idea what people's reactions would be to it because it is so personal. There are recipes in there in my aunt's handwriting, and pictures of my family. It's hard to know how people will react without that personal connection.
"But they seem to love it. Everyone comes across a recipe they remember their mum making or used to make themselves and have forgotten about."
Hansen, also a teacher at Manukau School of Visual Arts, says one of her strengths is encouraging and motivating people, and she'd like this book to be an extension of that. "I want people to make their own books like this and pass that stuff down to their kids."
And while it is definitely a work of art, it was important to Hansen, whose food history includes many years in the catering industry, as well as running a cafe with another sister in NSW, that Keepsakes still be a useful family cookbook.
"I have cooked everything in there - and more than once.
"I wanted the recipes to be really accessible with ingredients that are easy to find and not expensive."
And she's keen to try another one.
"I'd like to do it again - maybe on more of a meals theme - like recipes for kids, that you can add a few more tasty ingredients in so it suits adults. Or maybe food for camping."
But for now she's happy to sit back and watch the reaction to Keepsakes.
"You know how when you're doing something you love, things just seem to come together quite smoothly? That's what making this was like. Just pure fun."
Keepsakes by Frances Hansen (HardieGrant, $59.99) is out this week.