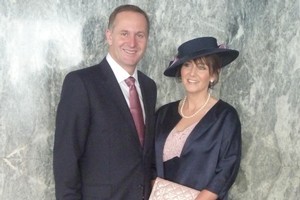 Her outfit was as closely guarded as the bride's.
It wasn't until the morning of the royal wedding that the Prime Minister's wife finally showed off her navy and pink Trelise Cooper dress and matching silk coat.
Bronagh Key posed with her husband at New Zealand House yesterday - wearing matching Trelise gloves and Dolly Varden hat - before heading to Westminster Abbey for the ceremony.
John Key couldn't hide his admiration for his wife.
"She looks beautiful, actually," he said.
"I don't often see her in hats, it looks great. It's definitely a step up from a beanie."
She picked up her pale pink clutch during a stopover in Singapore and already had suede shoes that happened to match.
It was an early start for the couple with Mrs Key's hair and make-up artist arriving at their hotel at 5.30am.
Susan Hardy, from Havelock North, was in London working with one of the television networks and approached the Prime Minister's office, offering to do Mrs Key's hair.
Mr Key revealed last week that he would don a dark navy suit woven from Marlborough merino and ground-down greenstone. The two-piece suit was made by RJB design in Auckland and cost between $2500 and $6000.
The New Zealand media following Mr Key around London and France this week have been pleading daily for a hint on his wife's attire for the wedding.
He looked almost ready to spill the beans on Tuesday but his press minder jumped in to keep the secret safe.