More and more fashion designers are creating their own prints: Viva finds out the story behind the fabric.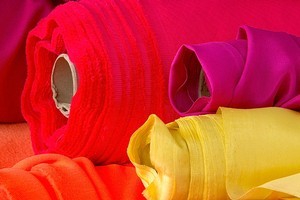 There can be many questions behind a simple dress. What was the inspiration? Where was it made? How much is it worth really? But one question many of us may not even consider: what's the story behind the actual physical material it's made from? It may be a digitally printed silk georgette, a beautiful lace, viscose or even, gasp, polyester. But where did it come from, how was it chosen - and why?
For many designers, it all starts with the fabric, and as one fabric wholesaler says, "a lot of people would say that fabric is the inspiration for design". It is the local fabric wholesalers that support and supply many of our local fashion designers which essentially form the backbone of our fashion industry - companies like Wall Fabrics, Global Fabrics, and the biggest fabric houses, Cooper Watkinson and Charles Parsons.
It is to these fabric suppliers that most local designers go at the beginning of each season - which for designers starts roughly six months before the finished collection will arrive in store - to look through a seasonal range of fabrics. These come from all over - some fabrics are sourced overseas, from mills and fabric fairs, while others may be developed in-house especially.
For the bigger houses, the collections can be massive: Charles Parsons releases two main collections a year, with 300-400 prints a season and around 400 plain fabrics, which could then come in, say, 20 colourways.
Some designers do overseas fabric-sourcing themselves, like Workshop's Chris Cherry.
"We began in the early 1980s by sourcing fabric from the Japanese domestic market at the same time as Japanese fashion was really taking off. We were able to source fabric from the same suppliers as Comme des Garcons and Yohji Yamamoto," explains Cherry. "From there, we started visiting Premier Vision [a major European fabric fair] twice a year. By buying direct from these exclusive European mills, we had access to unique and high quality fabrics which we could bring in at more accessible prices. Over almost 30 years in business, we've developed a strong international network of suppliers across Europe, Asia and the US. In saying this, we always try to source fabric locally where possible. For example, the fabric for our programme of organic cotton T-shirts is knitted in New Zealand."
Locally, only so much of the fabric is suitable for the higher-end, design-led market (wholesalers may also supply chain stores and middle-market brands), which means there can be a level of competitiveness. Wholesalers may have bought 500m of a fabric, and to get it exclusively (this happens mostly with prints) designers must commit to all of it, which can be a big risk - will they be able to sell that much? To combat that risk some designers may ask to purchase say, 200m, then ask that the company sell the rest only in Australia, so no other New Zealand designers have it in their collections - a strategy that can also be risky, seeing as the world of fashion gets smaller each day, thanks to the internet.
Some fabrics never stay exclusive. It happens every season; a print that proves so popular or versatile that it appears in several collections. Last season there was a popular denim polka dot, while for winter there are several double, or even triple-ups. There's an abstract lily floral print, at Twenty-seven Names and Sera Lilly, while Company of Strangers, Lonely Hearts and Lilly again have all made use of the same washed-out yellow floral viscose. Sometimes there are even double-ups from overseas designers: some fabric companies on-sell past season fabric and prints from international designers - like a busy green floral from 2009 that Juliette Hogan realised, only after it appeared in her store, was an old Marc by Marc Jacobs print. "I wouldn't use a print, now, unless I knew it was mine," says Hogan.
Does it bother designers when these double-ups happen? To a point. Helene Morris of Lonely Hearts admits that while it can be frustrating to see distinctive fabrics in other designer's ranges, it also encourages her team to play with fabric to create something unique. "We love to experiment and change fabrics in order to make them our own - for example, the yellow floral from winter we over-dyed a pale lilac so it retained its uniqueness."
It is an important point: essentially it comes down to what the designer does with the fabric that really matters once it's hanging in the store. But it is easy to see why more and more designers are developing their own prints, something that Michael Brown, director of the fashion division at Charles Parsons New Zealand, has seen an increase in. Creatively fulfilling, and much more exciting for the consumer too: when you're spending that much on something, do you really want three designers having the same print? Fashion is about exclusivity; so shouldn't the fabric be as well? But this, too, can be risky: Charles Parsons demands roughly a 300m minimum purchase and each colour in a print comes in as an extra cost. But it's worth it, as Karen Walker explains, "Print is best when it's exclusive."
In recent seasons Lonely Hearts has included unique prints in their collections alongside the bought prints, experimenting with digital printing on to unexpected fabrics like mohair. For their upcoming summer range called "Alone", Morris created a delightfully quirky print that features tiny camels. "Our summer range was in part inspired by an amazing story from a National Geographic from the 1970s about an Australian woman who walked solo across 1700 miles of Australian outback. Along the way she met up with Aboriginal townships and in one met some kids who drew her pictures of her camels and trip as a gift for her - these sketches inspired the camel print I developed," explains Morris, whose background is originally in graphic design.
Designer Cybele Wiren has worked with in-house designed prints for many seasons; interesting custom prints, often inspired by nature, have become one of her signatures. Her abstract volcano and rippling water prints for the current winter season are especially stand-out, while her upcoming summer collection features a beautiful crystalline print, almost an abstract eagle.
Wiren says that while there is an element of having to "share" fabric within in the industry, "if you want your local industry to survive you have to work within the constraints. Anything that is really signature, we will consign so it's ours exclusively". Although she admits that isn't something every designer or label can do. " It's such a key part of the range if you use graphics and prints - too key to have another designer using the same. But it's about having the ability to do it exclusively."
Working with a local artist to create an exclusive print with a story behind it has become increasingly popular too. Karen Walker is known for distinctive prints, and she and her creative team have been developing and designing prints in-house since 2003. Close to 100 in fact: from maple leaves to bunting, smashed plates to the peg and floral prints in the in-store winter collection. That range also features a blue hydrangea print, which was adapted from one of photographer Derek Henderson's well-known images of a blooming hydrangea bush. Stolen Girlfriends Club have also created their own unique floral print with outside artistic influence - a collaborative print with local fine artist Karl Maughan will appear in their upcoming summer 2012 collection, set to be debuted at Rosemount Australian Fashion Week. Meanwhile James Dobson, the designer behind Jimmy D, worked with Auckland artist Andrew McLeod for his winter collection - McLeod created a series of darkly beautiful black and white abstract prints roughly inspired by Norwegian black metal album covers, which were digitally printed on silk dresses.
But it's not always about artistic collaboration. Even something as simple as a classic polka dot can be adapted to be completely unique: Hogan had the stitched beige polka dots on her prim navy pieces matched exactly with the beige leather that also appears in her winter collection. At other times the approach to prints has an even simpler, more hands-on, approach. For winter, Australian designer Karla Spetic uses digital prints, taken from simple snapshots she took of her Sydney neighbourhood.