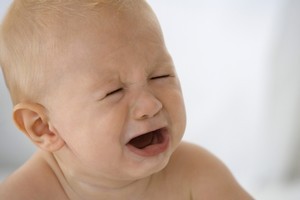 It's one of the biggest issues new parents face: getting their baby off to sleep. It seems everyone has an opinion on the right - and wrong - ways of doing it.
Some parents swear by feeding, rocking or cuddling their babies to sleep, and will happily let older babies or toddlers curl up alongside them in bed. Others prefer to leave their little ones to nod off on their own and, in some cases, will let them wail until they finally fall asleep.
The practice of controlled crying sparks lots of debate among parents and baby experts. It involves leaving the baby in their cot to cry and going in to comfort them at lengthening intervals until they crash.
It's usually recommended for babies over 6 months and the maximum amount of time suggested for letting them holler before going to see them ranges from around 10-15 minutes right up to 45 minutes, depending on who's dispensing the advice.
Supporters of controlled crying say it teaches your little one to go to sleep on their own, while rocking or feeding them until they drop off makes them dependent on you.
However, Plunket says controlled crying is not a method of sleep management it advocates.
"Leaving a baby to cry is upsetting for the baby and the mother, and anyone else who is around," says clinical adviser Allison Jamieson. "Of course it does depend on the cry. If they are just lying there grizzling, it's likely that they'll soon stop and go to sleep on their own.
"For older babies, with some cries you learn to tell whether they are just trying it on and you may be able to leave it two or three minutes before you go into them. Sometimes they may have stopped in that time.
"But if they are screeching the house down it is distressing for them and not beneficial for anybody else, and you don't want to be leaving them for half an hour."
Jamieson says it's tricky for parents to know what to do because there are so many differing opinions about getting babies to sleep.
"There's no right or wrong answer, and there's definitely no quick fix. But there are techniques you can use for calming your baby, like stroking or patting them until they calm down and putting them back to bed
"What you have to do is find a middle ground that works for you and go with that. You just need to make sure it is safe for the baby and everyone in the family is happy with it."
Baby adviser Sharlene Poole, who has worked as a private maternity nurse and holds parenting workshops, uses a technique she calls "supervised settling" to get babies to sleep. It involves turning the baby on their side in their bed so they're facing away from you and then calming them by gently and rhythmically tapping and patting their bottom.
"They're getting comfort from your touch but because they can't see you they forget you are there," says Poole. "When they're calm and drowsy, put them back on their back and leave them to sleep."
If they start crying again, she advises returning to the room after one to three minutes (depending on how young and distressed they are), and repeating the technique.
She says eventually they will settle because the movements are calming, repetitive and consistent, which they respond to. Returning quickly when they cry will reassure them that you are nearby and haven't left them.
As well as making sure babies are well-fed before they go to bed, it's also important that they're properly winded, says Poole.
"A lot of settling issues with newborns are due to the fact that they've got too much wind.
Poole says babies' personalities play a large part in how well they settle. Sociable, inquisitive babies can get over-stimulated and they don't want to go to sleep because they feel like they will be missing out. These are the babies who may benefit from settling techniques.
PLUNKET'S TIPS
* Try to put your baby to bed when they first show signs of being tired.
* Have a quiet period before they go to bed. This could be a cuddle or talking soothingly.

* If they grizzle or cry after being put to bed, gently pat or stroke them.
* If they continue to cry or seem distressed it may help to pick them up to comfort or feed them if they are hungry.
* Sharing a bed with a baby can increase the risk of SIDS. Talk to your Plunket nurse or call the tollfree PlunketLine on 0800 933 922 for advice.