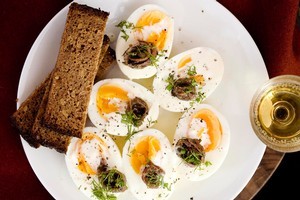 Serves 4
8 eggs
1/4 cup good quality mayonnaise
2 Tbs sour cream
salt
2 tsp fresh lemon juice
1 Tbs fresh dill
4 anchovy fillets
freshly ground black pepper
pumpernickel bread to serve
1 Carefully place the eggs into a saucepan of simmering water and cook for 6 minutes. Drain and run cold water over the eggs until cool. Peel the eggs, slice in half and arrange on plates.
2 Whisk the mayonnaise and sour cream together with the lemon juice. Season and spoon over the eggs.
3 Slice each anchovy lengthwise and roll. Place on the eggs and sprinkle with dill. Add a little more pepper and serve with pumpernickel.