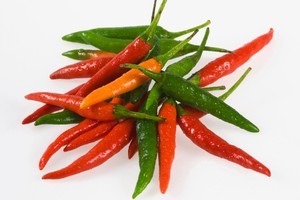 Britain is swept up in a red-hot passion - a national love affair. Look in kitchens up and down the land and you'll find little bottles of dauntingly-potent sauce, tubs of fearsomely strong powder and the distinctive, gleaming, scimitar-shaped fruit of the chilli plant. All of these items are clearly marked by nature as red for danger, yet we are fascinated with this deeply pleasurable, if formidable, spice.
But do we even understand it? In a typically British way, we are inclined to adopt the view that "more" - both in quantity and strength - means "better" - and occasionally, we suffer the consequence of our hotheaded hubris.
In a suburb of Nashville, Tennessee, my friend Tom Parker Bowles experienced a classic case of chilli overload. Researching his relishable book The Year of Eating Dangerously, he visited an acclaimed joint called Prince's Hot Chicken Shack. It serves fried chicken in a choice of mild, medium, hot and extra-hot. Given the title of his book, Tom had little option.
"You'll find it ain't chatting food," warned the Mayor of Nashville, who joined him for lunch. Though Tom's order for "extra-hot" drew the amused attention of fellow diners, at first it didn't seem too bad.
"Yup, it had a kick, but nothing I couldn't handle."
But then his account bursts into flame on the page. "A tanker of nitro-glycerine... a swarm of hornets... my fruit drink as much use as a water pistol on a bush fire."
Soon after Tom's visit, I found myself in Nashville and, on his recommendation, made the journey out to Prince's.
Of course, I didn't go for the extra-hot but, deeming myself a fairly experienced chilli hand, I plumped for the medium. I'll spare you the incandescent metaphors, though the mountain of sweat-sodden paper towels on my table testified to my inadequacy at coping with even a moderately hot Nashville chicken. The unpalatable truth is that my taste buds should definitely be filed under "mild".
It seems likely that the British enthusiasm for chilli products - a 2008 survey showed sales are rising by 18 per cent per year - ensues from our late conversion to this fiery catalyst. The plant is native to Mexico and its name derives from the Nahuatl language of the Aztecs.
Such is its magic in enlivening dreary peasant fayre that the chilli raced round the world soon after Columbus landed in the Americas.
It became part of Italian cuisine in 1526, eventually contributing to the magnificent arrabbiata and puttanesca sauces for pasta.
Introduced by the Portuguese, at least three types of chilli were growing in Goa by 1530. Usurping the role of black pepper, the spice became integral to Indian cuisine.
Today, more chillies are grown in the subcontinent than the rest of the world put together. Cayenne pepper - or merchi - has been propagated into a wide range of regional varieties.
It was via India that the British discovered chilli in the 19th century. The wild child Becky Sharpe, anti-heroine of Thackeray's Vanity Fair (1847), was tempted into trying a "fresh, green chilli" with familiar consequences: "Water, for heaven's sake, water."
For the greatest variety and subtlety of approach, however, no country matches the chilli's birthplace.
Mexican cooks can choose from 100 different species including chocolate-coloured chilaca, pale-yellow guero (which can be "mildly or very hot"), the fiercely hot habanero (the name reveals its Cuban origins) and the more restrained jalapeno. In addition, there are a wide variety of dried chillies, which have different flavour characteristics. The fresh poblano chilli, a handsome fruit in British racing green, is mild enough to be eaten in roast strips as an accompaniment for steak.
When dried, it becomes the wrinkled, dark red ancho, one of three different peppers used in the excellent chocolate and chilli sauce called mole. We might consider adopting Mexico's festive dish of turkey in mole sauce as a way of adding interest to this bland giant. Without doubt, we should discover the palette of spicy warmth enjoyed by the Mexicans, rather than treat chillies merely as a source of tongue-shocking heat.
However, I may have gone too far when I brought back several large bags of dried chillies from a market in Mexico City. Aside from one or two exploratory samples for chile con carne, my haul remains virtually intact in its cool box.
When my wife heard a possibly apocryphal yarn that dried chillies from Mexico might contain the eggs of a certain tropical bug ("Once they've hatched, you'll never get them out of your house"), her interest in my gastronomic souvenirs waned rapidly.
The world's most popular chilli sauce comes from the Gulf of Mexico. Tabasco was first made in 1869 by Louisiana banker Edmund McIlhenny. The 57ml bottles - containing 750 drops - still cost the same in the United States (slightly under one dollar) as they did then.
Despite this price stability, it remains a highly lucrative product for the McIlhenny family, since they produce 700,000 bottles per day from a picturesque, if pungent plant on Avery Island (really an onshore salt dome), 140 miles west of New Orleans. The family grow the peppers (a variety called tabasco) and own the salt underfoot. They only pay for the third ingredient, vinegar, which arrives by the tankerload.
The three elements are merely mixed together (evidently no expensive processing is required) before maturing in oak barrels for three years.
As with fine wines, it is the tinge of oak that makes the difference with Tabasco. Britain is the third largest market for this phosphoric juice, ranking joint-equal with Germany after America and Japan.
Year-on-year UK sales for June to September rose by 29 per cent in 2010. In recognition of our growing appetite, the company is introducing a one-gallon jug (by my calculation it contains 49,736 drops) later this month.
Large Bloody Mary, anyone?
Tabasco has expanded its range with mild jalapeno and ferocious habanero varieties. It is an indication of the increasingly torrid taste of the British that sales of Tabasco habanero rose by 5.5 per cent last year.
Sadly, the bottle in our house is virtually untouched. I find it too hot for practical use.
To be precise, it rates 7000-8000 on the Scoville scale for pepper heat. The original Tabasco, which rates 2500-5000 (depending on the provenance of the peppers used in the sauce), is quite hot enough for me. As we shall see, Scoville Heat Units (SHU) are a topic of intense interest for chilli enthusiasts.
When first devised by American chemist Wilbur Scoville in 1912, the test depended on a team of human palates tasting capsaicin, the active ingredient in peppers, increasingly diluted by sugar solution.
"When the human tongue is sensitive to less than a millionth of a grain, it certainly has an advantage," insisted Scoville. Doubtless to his posthumous disgust, a high-pressure liquid chromatograph is used instead to find the rating today.
Capsaicin is produced just below the surface of the pale, spongy material, known as placenta, to which chilli seeds are attached. It tends to escape and spread to the seeds and inner wall of the hollow fruit.
Colourless and flavourless, capsaicin was developed by wild pepper plants as an irritant against mammals but not birds, who play a useful part in spreading the seeds.
As food scientist Harold McGee points out: "It's a wonderfully perverse achievement for our mammal species to have fallen in love with this anti-mammalian weapon and spread the chilli much further than any bird ever did."
Capsaicin is oily, which explains why it is hard to wash off your fingers after you've been cutting up peppers.
The water demanded by Becky Sharpe would have produced scant relief. Munching something cold such as ice cubes can cool taste receptors below the temperature at which they are activated. Rough-textured food such as rice or biscuits can also distract the receptors.
"If all else fails," consoles McGee, "take comfort in the fact that capsaicin pain generally fades after 15 minutes."
It is sometimes suggested that we don't enjoy the chilli so much as the endorphins, the natural opiates which are produced by the brain to mask the pain. However, very little pleasure results from accidentally putting a chilli-daubed finger on an eyelid or another equally-sensitive body part.
If habanero sauce is hot, the habanero pepper is far hotter, rated between 100,000-350,000 SHU. It is matched by the infamous Scotch bonnet pepper from the Caribbean, used in the often-daunting dish of jerk chicken. These small, colourful taste bombs are regarded as relatively innocuous by extreme chilli addicts.
Some people build up a resistance to heat that enables them to take on board quite astounding levels of SHU.
If you tap "Trinidad Scorpion" into Google, you can watch Australian Neil Smith of the Hippy Seed Co. admiring, chewing, then swallowing a large, lumpy chilli known as Trinidad Scorpion. It has been rated at upwards of 800,000 SHU.
"Slightly fruity," he says at first.
"Woom! Instant heat... Still building like a hot coal... Excellent. Outstanding... I think my tongue wants to leave... I don't recommend a full one. That was extremely hectic."
A number of peppers are vying for the title of hottest in the world. Curiously, the front-runners have all been grown on an island with a less-than-tropical climate.
A chilli called Dorset Naga (1,032,310 SHU) was grown by Michael and Joy Michaud at Sea Spring Farm, Dorchester, from seeds bought in an ethnic food shop in Bournemouth.
"Maybe you have to experience such a thing once in your life," Joy told me.
"It's got an amazing fruity flavour beyond the heat, but I am surprised at its success. Who would want to eat anything that hot?"
The answer is "plenty of people", judging by the reaction in a Newcastle branch of Tesco, which sold 400 packets of Dorset Naga in a single morning.
Last year, the Michauds sold out their entire stock of 1100 plants as soon as they became available in May. At the South Devon Chilli Farm, Steve Waters is growing the Bhut Jolokin (1,041,427 SHU), which was listed as the world's hottest chilli according to Guinness World Records from 2007-2010.
"I eat chilli in just about anything, but I haven't found my tolerance getting any better," Steve told me.
"You'd really want to push the envelope to use this."
In February, the Bhut Jolokin was overtaken by the Infinity chilli (1,176,182 SHU) grown in Grantham, Lincolnshire.
Two weeks later, the title was snatched by an "unstable hybrid" temptingly called Naga Viper (1,382,118 SHU) that was grown by Gerald Fowler of the Chilli Pepper Co. in Cark, Cumbria.
"I wouldn't recommend eating a whole one - absolutely not," he said.
"A quarter of one would be OK in a chile con carne. We made a sauce with it that is selling like crazy. Up to now, we've sold 5000."
Surely that must be the limit. 'Fraid not. Some chilli sauces go higher still.
According to one gourmet, a delicate dressing called Be Damned Sauce (alleged to be 7.3 million SHU) is "like licking the tailpipe of a drag racing car. Bring it on!" (US police pepper spray is rated at 5.3 million SHU.) The limit comes in the form of pure capsaicin powder (16 million SHU) sold with the caveat: "This is a collector's item. It is not to be ingested in any form."
If that sounds completely bonkers, it is no stranger than the dispute over the world's hottest curry that took place, inevitably, in Britain.
In 2008, the Cinnamon Club in London claimed the title with Bollywood Burner, a concoction heavily-laced with naga peppers. This did not go down well with the Rupali restaurant in Newcastle, which has been serving "the world's hottest curry" since 1977.
Powered by bird's eye chillies (225,000 SHU), a dish called Curry Hell was invented by restaurateur Abdul Latif in 1977, who would give it away free to anyone who could finish a plateful.
"My father would be turning in his grave," said Rukon Latif.
"It's one of our most popular dishes. But we've been thinking of ways of making it stronger."
He might need to. Only last week, a "world's strongest" claim was made for the phal curry of the Wrexham Curry House.
Though it goes against the trend in Britain - particularly, it seems, in Newcastle - I'm looking for ways of making it weaker.
I was an adherent of the "knock 'em dead" curry until my wife cooled my ardour with a mild version. The novelty of being able to taste the ingredients and the delicate melange of spices - including the delicious flavours of ginger, cumin, coriander seeds - was a revelation.
In his Cook's Encyclopaedia, Tom Stobart stresses the immunity built up by people who eat lots of chillies.
"It is quite wrong to make Mexican or Indian food blindingly hot on the grounds that it is authentic. That is not how it tastes to the people of those countries."
Moreover, the macho devotee of hot chillies is missing out on some excellent, if less assertive, members of the same family.
As a new American book called Chasing Chilles concludes: "In the case of peppers, promoting the consumption of many varieties may bring us greater pleasure - or even a bit of fleeting pain - but never a dull moment."
Though it may take some getting used to, our palates can adjust to the pleasures of the ancho (1000-2000 SHU).
Whether in Newcastle or Nashville, there is nothing wrong with a walk on the mild side.
- INDEPENDENT