Gill South tries a meditation retreat but finds it hard to keep to the code of silence.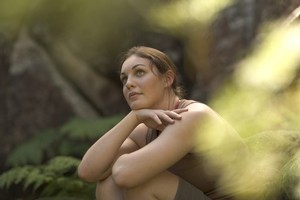 It's probably not the best idea to arrive at a peaceful, "silent" leadership retreat, red-faced and sweating. The walk to its location at Eden Garden on the side of Mt Eden took longer than I'd thought.
My meditation retreat today is being run by clinical psychologists Lisa Markwick and Marijka Batenburg - the workshop is based on Professor Jon Kabat-Zinn's "mindfulness" methods. Lisa is an experienced leadership facilitator and coach with her company Mindful Adventures and has been recommended to me by Barry Coates, the executive director of Oxfam New Zealand, an excellent big thinker and an advocate of meditation.
According to Lisa, mindfulness is not something you have to get or acquire. It is a rich resource of aliveness already within you, waiting for your attention.
In this workshop people are asking themselves questions such as: How can I slow down when all around me is speeding up? What wisdom am I missing as I "think" my way through big issues? All this is very topical as everyone in the room is reeling from the news about the Japanese earthquake and tsunami. One of the core transformational aspects of the workshop is that it puts us in touch with compassion for others.
I am a bit of a usurper - the rest of the group of 10 are two thirds of the way through an eight-week "Mindful Way Summer Series". They are professional men and women who I get to pretty well completely ignore. Not being able to speak makes this incredibly relaxing. There's none of the usual obligatory small talk.
We kick off with a yoga session, which reminds me, once again, that I am useless at yoga. Jon Kabat-Zinn, on his CD, kindly tells me to just visualise doing something if it is too hard to think of nothing - I abuse this suggestion shamelessly.
One of my favourite parts of the morning is when we are told to go off and do some standing meditation, where we walk freely around the gardens, stopping and staring, taking in the small things.
I have a special moment. Climbing up to a viewpoint, I come across an incredible view across the gardens. Some of the ferns and trees are truly vast and it's so peaceful. I feel awestruck, as if I'm in a rainforest in South America rather than in the middle of chi chi Auckland.
I describe my experience to Lisa as a bit of an out of body moment. She gently corrects me, it is anything but an out of body experience, it's about being embodied. I was transported, she tells me.
Do I manage to remain silent the whole time?
My healthy appetite after the hike from home is my undoing. Food starts arriving in the room toward the end of the morning session. A plate of toasted ciabatta bread slathered in butter, and another of sizzling bacon completely ruins my concentration.
I break the silence rule, murmuring appreciatively as I help myself to a large serving.
You really can't take me anywhere.
Next week:
I have always been a bit lazy about reading labels in supermarkets, but I am taken under the wing of a nutritionist and and given a supermarket tour, which opens my eyes to my unhealthy eating.