It's the dream of many a youngster to own a pony and take part in pony club activities. Shelley Bridgeman takes a look at what is involved.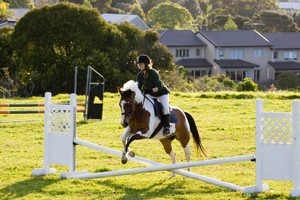 If you spy a car with a hay-bale protruding from its boot hurtling through Epsom or Glendowie, the chances are it's a pony club mother heading to one of Auckland's two inner-city grazing facilities. Around 75 Auckland children keep their steeds at Meadowbank or St Heliers Bay pony clubs, oases of rural equestrian calm in the middle of suburban bustle.
Fifteen-year-old Anneke Brodie is a six-year veteran of Meadowbank Pony Club (MPC) who can hardly believe her luck in being able to keep her pony, Mr Baggins, so close to her Remuera home. She was "over the moon" to own her first pony, Puzzle, at the age of nine and recalls being pleasantly surprised to discover the capacious paddocks nestled on land otherwise devoted to arterial roads, shopping centres and in-fill housing.
"I didn't really realise the pony club was here," says Anneke. "It's a really helpful atmosphere full of committed riding enthusiasts. I've made a lot of friends here. There's always someone to ride with and it's a great place to be."
Meadowbank has 35 members, aged from eight to 22, who graze their ponies on around 40 hectares leased from local authorities. While the heart of the club is the little A-frame clubhouse at the intersection of St Johns and St Heliers Bay Roads, the land sprawls outwards in both directions, including across the road where pony paddocks gradually recede into the distance.
"The longest-serving members get to graze their ponies closest to the club-house," explains vice-president (and Anneke's mother) Ingrid Brodie. "The girls must check their ponies every day, check all the fences and make sure they're safe. One of the benefits of sharing a border with so many neighbours is that we'll get a phone call if one of the ponies is in distress."
Sunny, Frank, Kola, Sam, Monty, Saree, Ivory and Shorty are just some of the mounts that reside here. Because they graze in communal fields, it's important that their temperaments allow them to mix happily with others. And, since the paddocks are used by young riders and accessible to the public, the ponies must be people-friendly, too; those that rush at humans with teeth bared need not apply.
Just as the ponies have to be sensible without drama-queen tendencies, so too their owners - or more specifically their owners' parents - must be hard-working, co-operative sorts. The terms of the pony club's lease dictate it must maintain the property to a "park-like standard" and so parents are expected to provide labour at monthly working bees where tasks such as repairing fences, trimming trees, clearing gorse and painting jumps are performed.
In addition to 18 paddocks, 24 yards and two stables, which are reserved for injured horses, the club has two dressage arenas, a show-jumping arena and a cross-country course consisting of 25 jumps. Most of the members attend local schools such as Baradene, Glendowie, St Cuthbert's and Selwyn. Just one member is male.
Though some members ride purely for the love of it, others compete in local and national competitions. Anneke and Mr Baggins were part of the winning Auckland area team at the New Zealand Pony Club Association (NZPCA) 2010 Teams Dressage Competition, and also won the Level 1 Pony Champion at the NZ Pony & Young Rider Dressage Championships.
Meadowbank Pony Club's mounted rallies are held at 5.30pm on Thursday evenings from October through to April. Ponies and riders are divided into groups of about six, depending on which NZPCA certificate they are working towards. Under the guidance of head coach Andrea Menzies, each group participates in two 45-minute instructor-led sessions focusing on a specific discipline such as dressage, show-jumping, cross-country or horse management. The rallies are followed by a $6-per-head dinner of macaroni cheese or lasagne when notices and general business are addressed. "It's usually just reminders to pick up poo and lock gates," says Ingrid, who knows only too well that any complaints about steaming piles of horse droppings on the footpath will be directed straight to the club's committee members.
As with most enterprises staffed by volunteers, fundraising - in the form of sponsorships and events - is essential to keep Meadowbank operational. It holds competitions such as ribbon days and one-day events as well as open days with pony rides and sausage sizzles - and $250 pony-themed birthday parties. Monthly "feed, pat and ride" sessions are hosted for deserving community groups.
One fine Thursday the buildings of the CBD glowed silver in the distance and 30 riders gathered for a rally in their pony club uniform of gold-trimmed forest green polo shirt and pale jodhpurs. Instructors on the evening Life visited included Kerry Currie and Jacque Williams, both well-regarded NZPCA coaches, and Kirstin Young, who joined MPC 16 years ago as a 14-year-old.
Above the faint but steady hum of rush-hour traffic, the instructors kept up a constant stream of advice, much of which was incomprehensible to the lay-person. "Wrap your pony around your inside leg," said the dressage instructor. "Alicia, prepare to trot on. Just be a little more subtle with your aids. Sit back and quietly ask him to trot on," said the show-jumping coach. "Look to your next fence. Plan your exit now. Well done. Give her a pat. Let her have a walk," said the cross-country instructor. Meanwhile a determined grey pony unceremoniously bucked a young rider off. She landed on her back and was not at all impressed with her mount's behaviour.
Ponies advertised for sale on the Trade Me website range in price from $350 to $20,000. "The price of a pony is just the start, quite honestly," says Ingrid. "It's the ongoing costs people need to think about." Regular expenses include grazing fees, shoeing, feeding and veterinary services. Saddle, bridle, rugs, brushes - even a horse-float - are just some of the equipment required.
Yet, judging from the happy faces and positive, collegial vibe at the club, the financial outlay is clearly worth it for these members. Thanks to Meadowbank and its sister club, St Heliers Bay, visible on the slopes just across the gully, the dream of horse ownership has become a reality for dozens of city children.
Saddle up here
Meadowbank Pony Club
Corner of St Johns and St Heliers Bay Roads, Meadowbank. Joining fee $150, annual membership $125, levies $80, grazing $30 per week.
St Heliers Bay Pony Club
111 Kepa Rd, Orakei, has about 40 members, mainly teenage girls, with ponies grazing on its 40 hectares of leased land. Holds rallies on Wednesdays from 5pm to 7pm in the summer season. Hosts Riding for the Disabled on Wednesday mornings. Club secretary Julie Sergent strongly recommends anyone thinking of joining completes the 10-week "Riders without Horses" programme so they can "see first-hand the commitment our young pony club members must have before they join and own a horse of their own." Joining fee $220, annual membership $300, levies $70, grazing $140 per month.
Mangere Pony Club
52B Wellesley Rd, Mangere Bridge. Located on 18 hectares within Ambury Regional Park, the club has 25 members aged from 9 to 23 plus six adult members. Twenty five horses and ponies currently graze. Annual membership and levies $280, grazing $120 per month. Club secretary Delys Wood says, "We are usually able to offer membership and immediate grazing to new junior and senior riders (up to age 21) but unfortunately have no grazing space for new adults at present." There will be an open One Day Event on April 3.
* Visit nzpca.org to find pony clubs further afield.