Address: Market Square, Viaduct Harbour, Auckland CBD
Phone: (09) 377 0125
Website: thefoodstore.tv
Cuisine: Contemporary
Rating: 8/10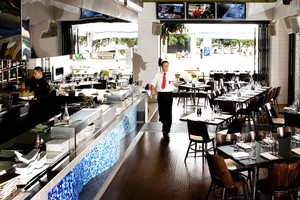 I ate at Jamie Oliver's Fifteen restaurant a few years back and was pleasantly surprised to find that it was much more than just "the restaurant that a TV show was based on". The food was genuinely fabulous.
I went along to the Viaduct's Foodstore curious to find out if the same could be said for this restaurant which is tied in with Food TV, or whether it was all just a bit of clever marketing.
I'd visited their website beforehand, so knew that this seven-day operation featured an open kitchen where cameras capture the chefs' every move and where diners can observe all that usually goes on behind the scenes of a busy restaurant.
Head chefs Wylie Dean and Mark Southon are introduced to us on the website by way of a couple of cheesy "I am a chef" video clips. Turn your volume up loud and you'll hear chef Dean boom "We're not in the business of cooking dishes, we're in the business of creating memories". Marketing hype? I was off to find out.
We chose a picture-perfect, 24 degree Sunday afternoon to pay our visit to the Foodstore and the Viaduct was at its sparkling best.
For my starter I chose the creamed paua. Guess what? I can't stop thinking about it. It's as though the memory of that perfect dish will forever play on my tastebuds. Immediately after our lunch I texted friends about it and a week later it was still the first thing I mentioned to people when telling them I'd dined at the Foodstore. The full-bodied flavour of paua, that precious black jewel of ours, clung to a creme so rich and tempting that even as I spooned up every last drop, knowing it was calorific beyond belief, I was plotting how and when I'd be coming back for more.
I noticed my dining companions were having their own starter moments - one over her island-style raw fish packed with lime, mint and coconut, and the other with a haloumi salad. So far, so memorable.
By now we were fully in the swing - eating, drinking, people-watching and all the while with our eyes flicking from the busy line, where the chefs worked calmly and meticulously plating up each dish, to the TV screens that showed the chefs calmly and meticulously plating up each dish.
I'm still not sure what the point of all that is, but, at the very least, for those not familiar with the machinations of a busy, working kitchen, it's an excellent opportunity to see it all laid bare. Here's hoping it encourages diners to think twice next time they're considering complaining about the price of eating out.
The exposed kitchen shows the amount of equipment, systems and human effort that it takes to bring together a full restaurant service every day, all day. It ain't cheap.
The Foodstore menu offers all dishes as either small or large and we had taken the option of ordering our mains in smaller portions to make sure that we still had room for dessert.
Akaroa salmon was served on bubble and squeak and vamped up with a scampi and saffron dressing that was divinely musky in that marvellous bisque-like way. Line-caught John Dory with oyster mushrooms annoyed us with its champagne froth but was otherwise good enough. I'd been swayed by the pork belly, given it was served with a buttered cabbage and the preparation of this humble vegetable turned out to be a highlight - a quick sauté to al dente with mustard seeds, it soaked up the Radler sauce beautifully. The belly was not so well prepared - over-cooked on the underside, it was tough and chewy.
All five desserts sounded fabulous and very "Kiwi favourites with a twist" but both the sherry trifle and the caramel gingernut cheesecake we tried failed to make sense to us. The trifle had too many Kiwi favourites (hokey pokey, lemon curd, booze) vying for attention and the cheesecake was too firm by far.
The Foodstore floor team, with their hip uniforms and upbeat attitude, are exemplary in the knowledge of their product and they made lunching fun. I hadn't been sure of what I'd find at the Foodstore but what I got was a vibrant, interesting and buzzy atmosphere, a fascinating NZ produce-focused menu and food that is so good it deserves to be televised worldwide.
From the menu: Creamed paua $21, haloumi salad $21, island-style raw fish $23, pork belly $24, Akaroa salmon $24, john dory $21, sides of coleslaw and onion rings $8 each, sherry trifle $14, caramel gingernut cheesecake $14.
Drinks: Fully licensed - we enjoyed glasses of Cloudy Bay 08 pinot gris, Dog Point 09 sauvignon blanc $16 each