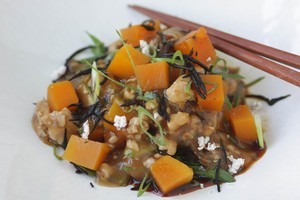 1kg pumpkin, washed, peeled and deseeded
1.2 litres dashi stock
160g caster sugar
160ml low-salt soy or tamari soy
160ml mirin
1 1/4 tsp sea salt
200g chicken mince
10 dried shiitake mushrooms, rehydrated in boiling water
75g cornflour, mixed with water to make a slurry
2 spring onions, finely sliced
2 tbsp hijiki seaweed (fine strands), reconstituted in water and drained
1 Cut pumpkin into thumbnail-sized cubes, place in saucepan, cover with dashi stock, sugar, soy, mirin and salt. Bring to boil and simmer until pumpkin is just cooked. Strain (reserving stock) and transfer pumpkin to mixing bowl.
2 Meanwhile, fry chicken mince with diced shiitakes (liquor reserved) for four minutes, then strain pumpkin stock and reserved shiitake liquid over mince. Bring to boil and thicken with cornflour.
3 Pour mince sauce over pumpkin and fold through spring onion and hijiki.