Address: Shed 22, Princes Wharf
Phone: (09) 309 9866
Website: eurobar.co.nz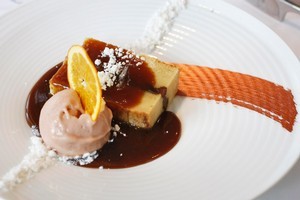 What a summer it's been, and still continues to exhaust with heat and humidity. So where better to head for a meal than our beautiful waterfront, which at least has the advantage of offering a sea breeze and some respite from the day?
Euro was one of the first restaurants to make the most of Princes Wharf. It faces west across the arm of the harbour to the new National Maritime Museum, an edifice that defies description and belief.
The staff at Euro appear to be more than happy with their surroundings, as they are cheerful, helpful and courteous. Water arrived promptly, menus were flourished, and orders taken without unseemly haste.
Ciabatta, from the kitchen of the inestimable Rachel Scott, was warm and fresh, and the olive oil excellent. The smashed olives were good but I wasn't quite convinced by the mushroom truffle cheese and the funny little tube of pork and paprika paste had little to recommend it, including flavour.
I don't often begin a meal with a salad but the combination of roasted beets with walnuts was exciting and different, and well set-off with a cranberry dressing and gorgonzola snow. Bill's scallops (both of them) were sweet and tender, and although he's not a fan of risotto he enjoyed this offering, flavoured with pink ginger and three types of caviar.
The pie of the day was lamb, prepared with olives, oregano and lemon. Lamb can be a tricky thing to cook, especially shoulder, which needs very long slow cooking. The meat in this pie was about an hour or so short of oven time, with the result that it was tough. It was wellflavoured though, and the pastry was featherweight.
My rotisserie chicken, rubbed with Simon Gault's own blend of herbs and spices (although not applied by his own fair hands, I wager) was excellent and generous to a fault. The peanut slaw was unusual and piquant.
There was only one dessert worth considering, in Bill's opinion - white chocolate and caramel bread and butter pudding with whisky sauce. Even one of the waiters muttered "yum" as he passed by. Yum indeed.
A glass of Calvados apiece, purely as a digestif, and we were done - well fed and content. You can't ask for more than that.
Rating out of 10
Food: 8
Service: 9
Value: 8
Ambience: 8

Our meal: $221.50 for bread, two starters, two mains, one dessert, wine, beer and two glasses of Calvados.
Wine list: Extensive - nay, prodigal - in its length, covering all bases, some several times over. My glass of Nevis Bluff pinot gris matched the salad, but was a little light for the chicken dish. The Wither Hills Rarangi sauvignon blanc fixed that. Bill was disappointed with the beer selection (nothing really dark) but was more than happy with a glass of Trinity Hill Gimblett Gravel syrah.
Verdict: The experience of Simon Gault's team shows, in almost all facets of food and service. A very, very good restaurant, in a beautiful location.