Maori potatoes, now in season, are great to experiment with in the kitchen.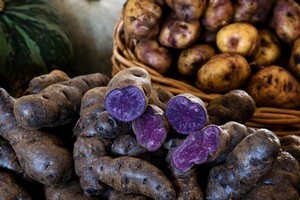 Maori potatoes are now at the height of their season. As consumers, we should appreciate the different varieties and learn how to cook them.
There is no need to buy dusty sacks of spuds when we can be enjoying these magnificent jewels that take such little preparation.
Boiling, in a fry-up, or sauteing, we can all appreciate these different varieties which are unique to New Zealand.
If you are not able to grow these varieties - which by the way, if you have a spare plot or even a large pot, don't take much effort - then it is all about knowing how to cook them.
I have used three different potatoes for these recipes. Firstly, small waxy karuparera, which are lovely dry little spuds which roast nicely with rabbit because they hold their shape and have great flavour.
The urenika is quite a special spud. Bright purple, and packed full of antioxidants, it can be boiled, roasted or sliced in half and grilled. The flavour pairs well with bread and butter pickles, buttered sourdough and a liberal spread of creme fraiche.
I chose huakaroro potatoes because they are deliciously dry and perfect for making gnocchi which is a simple dish that takes a little work but is very satisfying.
These potatoes enrich the flavour of the gnocchi more than any I have tried before.
Chef's tip
Treat Maori potatoes the same as new spuds. Ask your grocer how to cook the different varieties, but a gentle boil with a little butter, salt and pepper will let all appreciate them in their simplest form. Try the gnocchi recipe which has fantastic flavour.