Address: Simunovich Estate, 49 Main Rd
Phone: (09) 236 1030
Website: simuolive.co.nz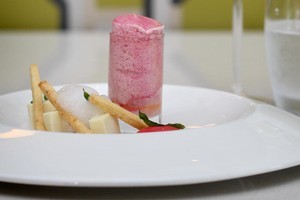 We'd been planning a dinner at Bracu ever since a disastrous lunch at Hotel du Vin some years back. Bombay is a great place to meet friends from Rotorua or Hamilton. In fact, this particular night, the Rotorua contingent bragged they took less time to get there than we did from Kumeu, having been held up by a mix of cyclonic rain, an accident (or "incident") and the usual Auckland holiday weekend chaos.
But Bracu, with its wide, inviting gates, parking spaces beneath the olive trees and elegant decor, melted tension away. We were expertly greeted by a smooth front-of-house person, shown to our beautifully decorated, white-clothed table and quickly delivered drinks all round. My perennial plea for a fruity, non-dry wine was answered by a delectable Misha gewurztraminer, and although it was a shortish list, the others were well pleased with their glasses of sparkling Huia Blanc de Blanc methode champenoise.
The menu at Bracu is even shorter. On the other hand, it's big on fresh, in-season produce and offers a Tasting Menu of around eight courses for $120.
We decided to go a la carte, which meant starting with complimentary crunchy hot bread rolls served with the estate's olive oil and an "amuse bouche" to start.
Both were a portent of things to come. While the roll was small, the bouche looked tiny on its large white plate. The creamy goat's cheese wrapped in prosciutto was, however, packed with flavour. A great start.
Our entrees were similarly promising. Four of us started with the scampi tail. Divided into small pieces in a circle, it was interspersed with salty orange salmon roe and cherry tomatoes. The dressing was piquant and the scampi just a tad dry, although, in my opinion, a notch above crayfish for both taste and texture.
On the other hand the ham hock terrine was judged slightly disappointing, while the Atlantic scallops, which were served without their roe, were labelled "insipid" despite their pretty foam. They also belied Bracu's stated mission: to offer "fresh, seasonal, local" food.
My beef, which was ordered "rare", was the best I've ever tasted. Served without sauce or gravy, save some mustard and fine-cut, indistinguishable, ox tongue, it was amazingly tasty, meltingly tender, red without being raw, and rested enough so there was no blood.
In contrast to my fellow diners' meals, it arrived cut into two generous-sized halves.
The others looked at my plate in dismay, especially Mike, who'd ordered the same meal well done and ended up with a shrivelled-looking piece not even half the size. However, when he cut into it, all was forgiven. The meat was, he said, delicious.
But it was the pork belly aficionados who were worst off. Maybe the chef wasn't prepared for our three orders. But the meals when they arrived were really small, the pork skin leathery and the meat beneath rather tasteless. Nor were they satisfied by the chipolata-shaped sausage alongside. Sadly it wasn't a version of black pudding, but filled with a savoury jelly.
Although James enthused over his vegetarian pasta special with its truffle oil, I noticed he had finished his smallish portion well before everyone else and then wolfed down a proffered hunk of fillet.
We ordered a bowl of hand-cut fries, which arrived quickly, still hot and crunchy from the deep-fryer.
The desserts were a different story. Maureen declared the raspberry souffle absolutely superb (high praise from her) while the men were amazed by the size of their blackberries with chocolate mousse.
This was a serious mousse, covered with a layer of thick chocolate resting on a scattering of berries. The whole ensemble was great. Not so the poached peach dessert which poor Victoria couldn't eat, due mostly to the accompanying popcorn, which tasted stale if not rancid.
Despite not ordering coffees, we were presented with a rack of delectable homemade chocolates.
So there we have it: a meal of serious highs and equally surprising lows. But on balance Bracu is well worth a visit.
Rating out of 10

Food: 7
Service: 8
Value: 7
Ambience: 9

Our meal: $624 for six entrees and main courses, five desserts, two beers and 10 glasses of wine.

Wine list: Excellent.

Verdict: Bracu can be brilliant but not reliably so. The menu is too flowery, failing to describe the dishes. The wait-people, while good, do not offer information that may help diners order a well-rounded meal, such as needing side dishes. And when we told a waiter of the popcorn problem, there was no apology or reaction from the kitchen.