Having led a lonely childhood, Lesley Pearse knows what it is to seek a better life. Now she is helping women to help others. She tells Stephen Jewell how.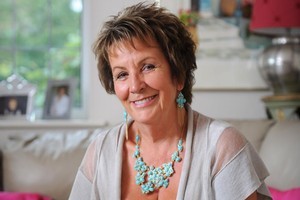 As Lesley Pearse knows only too well, the early years of life are the most formative. When the London-born writer was 3, her mother died tragically, leaving her and her older brother to live in grim children's homes while their father, a Royal Marine, was away at sea. He returned home three years later, remarrying and opening a foster home with his new wife, described by Pearse as a "veritable dragon of a woman".
Raised alongside numerous other lost souls, Pearse has since explored her traumatic experiences in novels like her 1993 début, Georgia.
"I'd written about seven books before I realised this had become a common theme," says Pearse, 65. "It was something that fascinated me after having not so much an unhappy childhood but certainly not a normal childhood. Over the years, I've worked as a nanny and had children of my own and you realise that what happens in childhood tends to stay with you and it colours what you do. "But it doesn't mean that just because you had a bad childhood, you won't succeed at anything.
In fact, it's actually the reverse. If you haven't had a terribly happy childhood, you're often hungrier for a greater life than somebody who was brought up in a comfortable, middle class home."
Georgia centres around a young runaway growing up on the mean streets of Soho. Pearse's latest book, Belle, takes place in nearby Seven Dials. Bordering on Covent Garden, the fashionable district was not so desirable in the 1960s. "We all used to go [to a club there] and it was all kind of sex, drugs and rock 'n' roll. It was pretty seedy. It's amazing how it's had a complete rebirth."
Although she now lives in a small cottage in the countryside between Bristol and Bath, London is still Pearse's main inspiration. "London is very atmospheric. I wouldn't have come up with the idea for Belle if I hadn't been wandering around Seven Dials one night.
"It occurred to me that it used to be a hellhole in Victorian and Edwardian times. I was imagining the kind of things that could happen there, and in some ways it hasn't changed very much. Some of the old rookeries, little courtyards and public houses from Dickens' time are still there. A lot of the action in his books is set there although he never actually specified that it was Seven Dials."
Set exactly a century ago, the novel begins with 15-year-old Belle living in a brothel before her innocence is dramatically shattered when she witnesses a murder. After being abducted and sold into prostitution in Paris, she becomes a high-class courtesan in New Orleans.
"I'm fascinated by the underworld and as a child I liked Dickens, partly because of how he portrayed social structures and the seedier side of life. It was a miserable existence so I really admire those who did manage to force their way up the ladder."
Publishing Georgia when she was in her late 40s, Pearse is something of a late starter. However, she has more than made up for lost time, her 19 novels to date have sold more than four million copies in Britain alone. "When I first started out, most novelists were 40 before they sold their first book," she says. "That's something that's changing now but I actually think you don't have enough experience to draw on until you get to about 40. If you led the kind of life that I do now when you are in your 20s, where you sit down and write nearly every day, you have actually not had much life at all, so what you write about will have to come from other books and things. I like to think that I started on the research for my books at an early age and only got around to writing them down when I was older."
Founded by Pearse in Britain in 2006 to honour society's unsung heroines whose extraordinary and selfless efforts are seldom recognised, the Lesley Pearse Women of Courage Award has since spread around the world. Last year's inaugural New Zealand event was won by Kelley Martin, a dancer who was told she would never walk again after a terrible road accident.
"A lesser woman might have just given up but she was made of sterner stuff, and despite many operations and years of pain, she battled through it and finally opened her own dance school to teach others how to dance," says Pearse, who visits New Zealand next week to promote this year's prize.
"I hope that opening the award myself will bring in even more nominations. I'd like to remind people who know someone they think is a brave woman, that nominating them is a way of showing your admiration and support. For many women that acknowledgement is all they need to spur them on to even greater heights."
Belle (Penguin $40) is out now.
Lesley Pearse will speak at public events in Palmerston North, Dunedin and Wanaka next week (see penguin.co.nz). For award details, see womenofcouragenz.co.nz