As MasterChef NZ returns to our screens Sarah Lang finds out if Simon Gault's reputation as the show's scariest judge is deserved.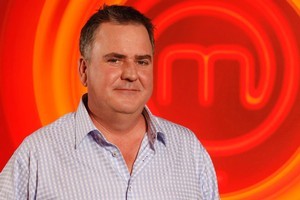 I'll admit I was slightly apprehensive about meeting celebrity chef Simon gault. I'd read he was guarded, combative, not that keen on journalists' questions - and I'd heard a few other snippets.
In 2008, after a disagreement with Metro magazine, his restaurant Euro took out a full-page newspaper with a recipe for "Metro Food Critics' Testicles". Ouch.
In January, police were called to an alleged altercation on a bus after a black-tie do near Springfield, Canterbury. Reportedly, the driver taking guests back to their accommodation wouldn't stop when a chef needed to urinate - and Gault's ensuing outburst would have done Gordon Ramsay proud.
But hey, if Gault was mean it would make for a more interesting interview. Alas, I quite liked him.
No sooner had I sat down than he began asking me questions: "Are you a foodie?" he demanded, somewhat curiously, somewhat combatively. Well, I said, I like food, but I'm not a foodie.
I'm one of those dammed vegetarians who make chefs cringe. Gault, whose restaurants include the Jervois Steak House, didn't hold it against me.
When I mention that few menus offer more than one vegetarian dish - we don't always feel like eating pasta - he gave me a tip. Call the restaurant in advance and ask if they can whip something up - and say thank you after your meal, mind.
My response was that we shouldn't need to ask for anything special and thus feel like a nuisance. We agreed to disagree.
The reason we're talking fine dining in a cavernous West Auckland warehouse is because filming has just wrapped for the day on the second series of reality-TV cook-off MasterChef. And because he reckons there may be some spin-off publicity for the feted Auckland restaurant Euro (which does have vegetarian options).
Last year's MasterChef runner-up, Kelly Young, worked there for six months and contestant Kirsty Cardy is now there full-time. "I often hear from the others by email," Gault says. "I'm always there to help. I'm only a phone call away."
Aw. If you hadn't seen the first series you might wonder why he was dubbed the "scariest" judge. Perhaps because he wasn't shy about saying when a dish was an "embarrassment".
He says: "I got shtick last time because I gave one of the girls a hard time after she got a beer and started drinking it. But I would have done the same thing in my restaurant."
Our local take on this international TV phenomenon follows the usual recipe. Plucked from thousands of wannabes, 12 cooks live and work together as they vie for the title. Competition + recipes + tips = ratings, darling.
This time there's a new judge, Michelin-starred chef Josh Emett, who is rather easy on the eye.
"Yes, he's definitely the pretty boy on the show. He's a great guy."
The wannabes aren't a bad bunch either.
"The calibre of the contestants is probably higher this year because they'd watched the first series and thought, 'I can do that'."
Gault is impressed by little ol' New Zealand's depth of talent and reckons the authenticity of the contestants draws viewers in.
"The people on this show are real, not like on American Idol. They're not really interested in the cameras. Sure, they know that winning will be a great career vehicle, but they actually really care about cooking. And that's the thing I get."
He admits it can get emotional, too. "The hardest thing is saying goodbye to people who want this so bad. It's horrible to send them home.
"It's also emotional when you're excited for them when they've done really well.
"On occasions I've felt like a proud dad. I've never had kids but, to me, that's what it would feel like."
Gault, who as an apprentice had a terrific, if scary, mentor himself, admits it's hard balancing the MasterChef mentor role with that of taskmaster and judge.
"But probably the most frustrating thing about doing MasterChef is not being able to get in there, roll your sleeves up and help them. You can't answer a question or give anybody an unfair advantage."
That's why he enjoys the show's more relaxed masterclasses: step-by-step tips and demos which help those of us who lack confidence in our cooking or are in a recipe rut.
"The trick is to practise on yourself, your partner or whoever first," Gault advises. Then, and only then, invite dinner guests.
As his own person - one who doesn't worry about what people think - Gault translates well to TV. This guy isn't hamming it up for the cameras - what you see is what you get, take it or leave it. "Though you want people to like you, don't you. I'd hate to be a hated person."
The people who approach him at the airport and on the street seem to like him. Perhaps, he laughs, because they think they know him personally then suddenly realise they don't.
Gault is also executive chef and co-owner of The Nourish Group, a 10-strong portfolio of restaurants and a couple of bars. His restaurants get first dibs on his 200-line range of food products. Add in MasterChef and there are few holes left in his schedule. Perhaps he'll go Gordon Ramsay's way and end up with so many projects that he never actually gets to cook?
He admits that time management is a struggle, particularly during Euro's revamp last year. "It's been really frustrating not being in the kitchen."
Then again, he reckons he's getting too old for 12- 16-hour kitchen shifts - and doesn't want to turn into a sales rep.
"I still want to have my restaurants but my role has evolved into writing the menus and inspiring my chefs to do a better job than I can."
Including, perhaps, a few more masterchefs.
* MasterChef New Zealand series two begins on Sunday February 20, at 8.30pm. MasterChef MasterClasses, in which judges Simon Gault, Josh Emett and Ray McVinnie demonstrate their own cooking skills and techniques, begins mid-March on TV One.