Nigel Latta helps parents navigate their kids' explosive, hormonally fuelled teenage years in a new TV series.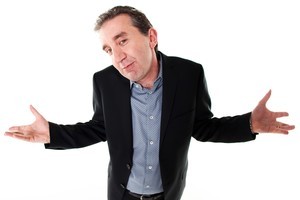 Oops. I almost started this story by introducing Nigel Latta as a TV parenting guru.
He will hate that. He might have the psychology degree and go to fancy shrinks' conferences and deal with tough-nut cases and have several hit TV shows to his name, but Latta ain't no Supernanny.
His whole schtick is that he's not some uppity expert telling you what you did wrong and pompously giving you the rules to do it right and get an A+ in parenting.
If anything, he's the anti-guru. But that doesn't mean you shouldn't listen to what Latta says, especially if you have a spotty youngster in your house. Or actually, even if you haven't.
Latta is funnier than many stand-up comedians - betcha he could make even people without kids laugh. Not that he would admit that, either.
"I hate watching me on TV," he says, "but actually I quite like the show even though there's me in it. There's some quite helpful stuff and I hope we get across some of the big messages."
Yep, that was Latta's idea of spruiking his new show: TV One's publicists must pull their hair out.
But Latta doesn't need a hard sell. His brand of humour and reassurance has become a local phenomenon among parents who are sick of being bollocked by experts and just want someone to cut through all the psycho-babble.
His latest eight-part TV series and accompanying book The Politically Incorrect Guide to Teenagers is like the extreme-sports version of his earlier work, The Politically Incorrect Guide to Parenting.
You want a tough assignment? This is it. Of course, Latta also has extra credibility when it comes to deeply dysfunctional teenagers as the presenter of the dramatic reconstruction series Beyond The Darklands, where he analysed the psychological disorders of notorious Kiwi killers.
But the new series is targeted at the parents of your common or garden teenage monster, and could be useful even before your kids get to the zitty stage.
The book's sub-title is Before Your Teenagers Drive You Crazy. Latta takes that "before" part seriously. He hasn't even got there yet. Latta's children are aged 8 and 11.
"The 11-year-old is starting to curdle already." As Latta sets out in his book, humanity is having to deal with the physical onset of puberty earlier and earlier, but the maturity of the brain still has to catch up.
With his own children, Latta is trying to practise what he preaches - although he tries not to preach, naturally.
"I wanted my boys to grow up and to be a helicopter pilot and in the SAS. Then I could go out to Papakura and shoot machine guns," Latta joshes.
But he's just trying to make the point it's not about him.
"You are trusting in the fact that if you do your job they are going to figure [it] out. You can coach them and give them advice but the final decision is theirs. I don't want to live their lives."
That is one of Latta's big messages. Stop obsessing. The Kids are All Right. And Latta is the first to admit he doesn't have all the answers.
As he points out, even psychologists can't agree about much.
Initially he didn't want to write the book because he couldn't see how he could solve all the problems parents of teenagers needed help with - it would have to be a 15-volume set.
So Latta gave up trying to provide a prescriptive paint-by-numbers guide and told parents to trust in their own instincts.
"There is no black-and-white, one-size-fits-all answer. And it's hard to write parenting books. When you're a parent you're buggered. The last thing you want to read is anything preachy or boring."
Latta doesn't try to answer the question of the concerned parent who demands: "Tell me what to do to have a happy, successful child."
"You get people who literally think extra maths will stimulate their brain ... or want them to play the flute, but I don't think those things make that much difference," he says.
Instead, Latta tries to deal with the parents' own anxiety, offering ways to keep sane by accepting that upheaval simply goes with the hormonal territory. That's the Zen-ish part of Latta's philosophy.
Life is a rumpty, ramshackle, messy old business and sometimes it helps if you accept that and adjust your expectations.
"Life is suffering. Once you get your head around that, and stop thinking all should be perfect and lovely it gets easier."
Yet Latta's each-to-their-own approach won't find favour with the so-called Tiger Moms who expect super-achievement from their kids.
"If I lived in a family which was all happy and nice all the time I would want to burn the house down. It would be the Stepford Family. We're not. We're humans."
As with the earlier programme, this Politically Incorrect Guide includes footage from some of Latta's live shows as well as interviews with, er, real experts such as youth aid advocates and neuropsychologists, and dramatised segments using actors who play a "typical" family.
Latta says he is looking forward to seeing what people make of the character of Mad Uncle Jack, an alter ego Latta has invented to help parents not get riled when their adolescents act up.
"Imagine for a moment the rest of your family have got together and decided Mad Uncle Jack should come and live with you. Nobody else wants him because he's mad and smells of pee. So they give him to you to look after.
"Imagine you're sitting watching telly one night. The ads come on and you lean over and ask Mad Uncle Jack if he'd like a cup of tea. He looks at you for a minute then leaps to his feet, yelling profanities, calling you a bitch and then storms off to his room in the basement. Now, would you let that ruin your evening or would you just think: 'Ah well, it's Uncle Jack being mad again, no surprises there'? Would you wonder if mad old pee-smelling Uncle Jack had a point? Would you start to question your inner bitch-ness? No. So why would you get upset when [insert teenager's name here] does the same thing?
"People say adolescence is a developmental stage. But that's a myth," Latta states.
"It's actually more like a mental illness." (While Latta might bill himself as being politically incorrect he does feel obliged to include a mea culpa here to say he does not mean to trivialise the tragedy of families dealing with teenagers with real mental illnesses such as schizophrenia.)
Just think of your troublesome teen as Mad Uncle Jack, he explains.
"Just as you wouldn't take Mad Uncle Jack's ramblings to heart, you shouldn't take theirs."
Still, it is tough to accept that the children who not so long ago used to idealise you, now see all your imperfections.
Teenagers are unforgiving about integrity and will point out if you are not doing the very things you are expecting from them, he says.
"You can't expect your kids to not get pissed off if you are getting pissed off all the time."
You don't have to be an expert to know that.
* The Politically Incorrect Guide To Teenagers debuts on TV One, Wednesday at 8pm.
- HERALD ON SUNDAY / VIEW