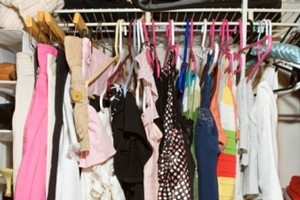 Impulse buying and emotional hoarding have led to a phenomenon where women look into their bursting-at-the-seams wardrobes and think: "I have nothing to wear."
The latest household spending survey shows Kiwi women collectively part with $208 million for shoes and $809 million on clothing each year.
But well over a third of their purchases are left to gather dust in the back of closets, stylists report.
Jackie O'Fee of Signature Style said women generally wore 20 per cent of their clothes 80 per cent of the time yet continued to buy more things, creating a clutter that made putting together a cohesive outfit more difficult.
Rather than heading to the mall, O'Fee recommended women try take a "shopping" trip through their own wardrobes.
"Take a look at what you've got with fresh eyes. People have often forgotten what's in there," she said.
Getting rid of excess items meant the clothes that do work were easier to see and co-ordinate together, she added.
But such a cull is easier said than done because of the guilt about wasting money.
A study of 1200 British women found there are about 500 million pieces of unworn clothing hiding in closets across the United Kingdom - worth up to £1.6 billion ($3 billion)
Women in the study were found to be hoarding an average of 22 items they did not wear, adding up to around £300 ($620) each.
A third owned at least six pairs of unworn shoes.
Personal stylist Anna Paterson specialises in "wardrobe overhauls" and agreed a good clear-out could do wonders to a woman's ability to dress well.
"Be ruthless," she said.
Paterson said a common pitfall was women clinging on to their "skinny wardrobe" despite the clothes no longer fitting properly.
Similarly, many women struggled to part with their corporate wardrobe years after becoming a stay-at-home mum and continued to splurge on office clothes when they lived in jeans.
She said being surrounded in clothes that did not fit or look good could be damaging to a woman's self-esteem.
Stylist Christine Lemalu advised people to calculate the "cost per wear" of an item by dividing the price by the amount of times it is worn.
She said $400 for a good-quality pair of jeans was great value if you wore them twice a week for two years, while a worn-once $25 skirt was not a bargain - even if the price was reduced from $300.
Stylist Julia Turnwald went as far as cautioning against ever buying anything on sale.
"The reason it is discounted is because no one else likes it," she said.
"People end up buying on impulse because of the price. The price becomes more attractive than the item itself, which is often ill fitting or the wrong colour."
Turnwald said one full price item would almost work out better than two half-price pieces.
"My advice is to buy less but spend more. You can still go to Glassons and Max, just buy the right things," she said.