New Zealand actress Emily Barclay plays a boy-crazy character in her latest movie about love.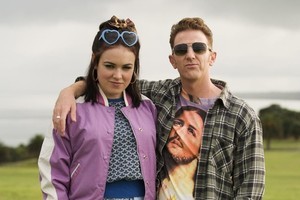 Emily Barclay doesn't buy into Valentine's Day, but by pure coincidence will spend it seeing Bright Eyes - a band whose lyrics include such romantic notions as "You are the roots that sleep beneath my feet / and hold the earth in place".
The 26-year-old actress jokingly admits to being relatively cynical about the day: "It's like Christmas: it comes along and I just want to avoid it. You think it's stupid but then it comes along and you're like, 'Oh, well obviously nothing's going to happen now because I've spent the last month saying how stupid it is; why do I feel slightly disappointed?'."
There is much romance, however, in Barclay's latest film, Love Birds, a romantic comedy that also stars comedian Rhys Darby, British actress Sally Hawkins and an injured paradise shelduck.
Barclay plays Brenda, the quirky friend of Hawkins' character; she wears heart-shaped glasses and pieces by former designer Mala Brajkovic (Barclay herself says she loves New Zealand designers, a favourite label being Chelsea Rebelle; the designer Sarah Brannon happens to be her best friend).
Barclay finds it hard to describe Brenda - she hasn't yet seen the finished film - but does say she's "fun, bubbly and boy-crazy".
"How you perceive your character to be, or how you feel they are when you're playing them, it's always different to how they turn out. It's like when you try to describe yourself, you say you're this, this and this, and your friends will say 'no you're not!'."
Working with Hawkins, who has featured in films including Made in Dagenham, Happy-go-Lucky and Vera Drake, was a joy, says Barclay, who was a fan before meeting her.
"We are still really good friends. I love her; she's the most amazing human being. I was a huge fan, and I met her and was like, 'Oh God, I'm going to say something embarrassing and seem like a total nerd'. But she's a wonderful woman." Her praise isn't reserved solely for Hawkins either: working on a set with Darby was, unsurprisingly, hilarious.
Barclay is now based in London, making the move about eight months ago after filming Love Birds in Auckland. And despite the foul weather and shock to the system, she's still in love with the city.
She's moved into a flat with English actor Henry Lloyd-Hughes in East London's Hackney, an area she says is "very trendy" and "full of hipsters".
Before that she spent time with family in Somerset, and finished work on a film at the end of last year. Called Weekender, it's set in Manchester in 1990 and examines the rise of the early rave scene; filmed around London as well as in Amsterdam and Spain. Like Love Birds it was a fun shoot, but a heavier storyline.
Barclay's past work has tended to veer on the darker side - Suburban Mayhem saw her play a character who "lives in a world of petty crime, fast cars, manicures and blow-jobs" and she played a missing teenage girl in In My Father's Den - but she says it was great to be able to have fun on set.
"I don't think it was necessarily conscious [to do a lighter film], but I'm really happy that it came along and I got the part, because it was a really nice change. When you're doing darker, heavier stuff, it does impact on you; you have to be in that headspace all day.
"When you get to go on set and have a laugh, it's great. I spent the whole time trying not to laugh at Rhys - he'd start and go off on a tangent, and it would actually be impossible not to laugh."
* Love Birds opens in cinemas on February 24.