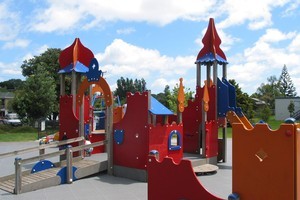 There's a great park, about a 10-minute drive away from our house, that is half-fenced.
By that I mean that at Rocket Park on New North Rd, a semi-circle fence stops kids making a dash for a busy main road, but the back half of the fence is off, so, if a child was enterprising and momentarily unwatched, said child could still make a perilous run for it.
There have been many attempts by local parents to alert the Council to this strange situation, and it seems the Council may well finally be listening. The other day while we were there, a woman with a clipboard was doing the rounds, asking parents their views on finishing the fence.
I happily stepped up and gave the surveyor my view. Perhaps a little bit more: I said that all playgrounds anywhere that target small children (ie. under 5) should be fully fenced.
After I said that, someone behind me snorted. I swung around to see who was flying in the face of such overwhelming (albeit expensive) common sense, only to find it was my very own husband openly disdaining my point of view.
I carried on to a chorus of "tsks" and mutterings, before telling the Council woman that she could most certainly find another point of view from "that man right there". And indeed, she did - when I sauntered past some 10 minutes later the poor woman was still being harangued about the unsuitability of some of the playground equipment and the paucity of modern parenting.
Like so many other issues, (adult) playground behaviour is an issue that finds my husband and me at odds. His idea when going to the park is to race the kids up the slide, run alongside the flying fox, climb the monkey bars and generally act like a 5 year old again.
My idea is to take my coffee, sit in the sun, watch my kids and get involved when fights break out. In other words, sit on my fat a*** for a while, after the struggle to get everyone out of the house and before the huge exertions to get everyone back there in one piece.
To the man of the house, a fully circular fence at Rocket Park is unnecessary because anyone going should be keeping up with their kids and so would have plenty of time to head an escapee off at the pass.
To me, a circular fence is important because it means that people with very little kids - who have less interest in the equipment and more just running their miniature legs around - can take a break while their kids explore, safe in the knowledge that the park is encased.
Of course, even having a fence doesn't always guarantee safety - there's the perils of the actual playground, of course, as well as the idiots who leave gates open (and there are always at least one of those). But a proper fence keeping child and main road apart can only surely be a good thing.
I'm pretty sure that most people surveyed by the woman with the clipboard agreed with me, and that with any luck, that hugely popular park will soon have a properly functioning fence that keeps little legs safely within.
And thanks to a great cafe serving amazing coffee right opposite the park, lazy, caffeine-addicted parents like myself will have even more reasons to return than ever before!