Exercise, fresh air and new perspectives await those who venture on to Auckland's off-road cycleways, writes Kirsten Warner.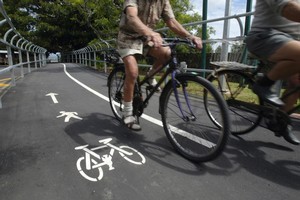 The only truly safe cycling in Auckland is off the road. Discover the city's wonderful cycleways, which must be some of the city's most under-used assets, and you'll hardly pass another set of wheels.
You won't have to leave town or drive very far to get a real sense of freedom. And if you own a bike, it's free.
Auckland's cycleways provide great weekend outings without the drama of traffic and having to be constantly alert to cars passing dangerously close or invading the marked cycle lanes along main thoroughfares.
On kilometres of mostly sealed surfaces you can relax and enjoy the scenery, barely noticing that you're getting some exercise at the same time. You'll get to know and explore the city in a whole new way.
Waikaraka cycleway, Onehunga, 4 km
This is a real gem, and a forgotten one. Start at the lovely old-world Waikaraka Park Cemetery, and cycle along the upper Manukau Harbour towards Otahuhu.
For the fringe of Auckland's industrial heartland this area was remarkably quiet the weekend I visited. Apart from a solitary bulldozer working near Pike's Point, everything else seemed shut down.
On one side of the 3m concrete path is wide harbour and big sky where seagulls cruise beside you and grey herons fish at low tide. A solid green bank of planting hides most of Te Papapa's big commercial buildings, but there are surreal views of container stacks, ranks of imported vehicles, stacked logs and what's left of the wasteland this area used to be.
The old pedestrian path dips charmingly down into the mangroves while the new cycleway loops further back, meeting at the dramatic rail overbridge just before the Mighty River power plant at Southdown. Cycling back, the view is different with the twin mounds of Mangere Mountain, the graceful new bridge over the motorway, and the Waitakeres.
I had noticed it when the council was working on the foreshore but never expected it to be this good. It's just delightful, an absolute surprise.
A few hundred metres further, the cycle path dips under the new Mangere Bridge. It has another semi-enclosed pedestrian/cycle lane separate from the car lanes - good wet weather cover.
But it's still lovely to meander across the old bridge, now fully pedestrian and popular for fishing. Mangere Bridge township, with its funky cafes and good fish and chips, is only a couple of blocks further ahead for a stop to refuel.
Watercare Coastal Walkway,Mangere, 2 km-10.5 km
This is a very pleasant cycle around an area that most Aucklanders used to avoid, in the days when it was occupied by the city's main sewerage plant. Today it is scenic, quiet and full of returning birdlife.
From the old Mangere Bridge follow paths around the beautiful Kiwi Esplanade reserve with its sea walls, two boating clubs and boat ramps. These are footpaths, so give pedestrians the right of way.
A wide lawn area opposite Hillsborough's green belt is signposted as the home of the Australasian pied stilt - a rather precarious choice of habitat with footballs and frisbees flying around.
Beyond a latched gate is Ambury Park Farm. Paths are now easy gravel. Suddenly it's rural with 150-year-old stone walls, sheep and cattle. Small children can explore the animal playground here.
At closely guarded colonies of endangered New Zealand dotterel, signs read: "Please give me space. My eggs and chick are easily harmed. So keep away from the fenced area. And please don't linger." Good advice. So it's a nasty surprise to see a suburban ginger cat slink off into the bush.
The Ihumatao coastline feels remote - even though Mangere Mountain looms behind you. Paths can be a bit jolty but nothing difficult. The Mangere Lagoon loop passes under massive exotic trees with surprising banks of purple cinerarias.
The walkway continues 7km past Puketutu Island (which has cycle access) to historic Otuataua Stonefields, which would take another hour and a half, but there are many shorter routes that are almost deserted. You could come back and do it in sections - there are plenty of access points along the way.
Northwestern cycleway, 9km
This existing cycleway following the northwestern motorway was recently completed with a section behind high walls at Kingsland.
It's good cycling without having to leave town - interesting, fun and well signposted. There are more riders on it than other cycleways - but not many more.
From Upper Queen St you zoom beside Don McKinnon Drive past warehouses and peeks of bohemian city living, Newton gully's dramatic cityscape.
Below the motorway, the noise is surprisingly muffled. At St Lukes Rd Extension, you can turn off for the Zoo, Motat or Western Springs Park. The path skirts Chamberlain Park Golf Course before crossing Carrington Rd to Unitec gardens.
Look for specially designed cycle traffic crossing signals at Newton Rd and St Lukes Rd: park your bike on the diamond pavement marking to activate.
It takes about 25 easy minutes to ride from the city to Point Chevalier (there is also access to the cycleway from Kingsland).
Riding on to Te Atatu beside the motorway takes about the same time again. At high tide the water is beside you. Mudflats, coastal plants and mangroves provide a rich landscape. A couple of hills get the heart pumping and provide a bit of a thrill, but mostly it is flat easy riding. With your return trip, this may be enough of an outing. Or you may decide to extend your ride to Henderson's cycleways.
Twin streams cycleway, Henderson
From the Te Atatu end of the Northwestern Cycleway, continue a short way further to McCormick Green. From here about one kilometre of safe road riding is signposted to the start of the Twin Streams Walk and Cycleways. This ongoing project is regenerating and cleaning up Henderson's waterways.
The secluded ride up Henderson Creek takes about 10 minutes via Tui Glen Reserve with its historic wooden buildings. Markers with photographs along the way and around Cranwell Park explain the creek's history.
Over the yellow bridge, turn right in front of Westwave and follow signs past the working water wheel to Corbans Estate and the Opunuku Cycleway.
Or at the yellow bridge turn left for the Oratia Stream Cycleway which loops across Parrs Cross Rd and joins its twin.
Oratia Stream Cycleway, 3.6 km
Not recommended for children as there is nasty Henderson traffic to negotiate (use the footpaths) before the cycleway starts at Vitasovich Ave. The first leg is local rather than scenic, the clean-up of the stream is still under way, but becomes more pleasant after Sunnyvale.
Parrs Cross Rd is steep and traffic is fast, but for a wonderful slice of the old west stop at The Packing Shed Cafe and Gallery, with its curio shops and artisan wines. Garden tables, old fruit trees, vintage signage, rusting ploughs, wine barrels and vineyards - it's a great place to refuel and enjoy before the valley is subdivided.
Opanuku Stream Cycleway, 4.8 km
The twin cycleway re-starts at Henderson Valley Rd and feels like you're out in the country with paddocks, horses and some huge old trees in the connecting reserves down the Opanuku Creek to Corban Estate. There has been a good clean-up and plenty of planting over the years. This path is beautiful, old-world, and a better choice than the Oratia leg. A real discovery.
Pakuranga/Farm Cove Rotary Walk, 8-9 km
This stunning cycleway from Kentigern Close to volcanic Pigeon Mountain has many entrances through Farm Cove. It follows the Tamaki River waterfront to Half Moon Bay, past the Pakuranga Sailing Club, beautiful real estate and planting. There are boats and ferries to watch, and a playground to stop at along the way.
Devonport-Takapuna cycleway, 6 km
This delightful route meanders around charming Devonport Peninsula, from Stanley Bay Park through Cheltenham, Vauxhall, Narrow Neck and Ngataringa Park. It includes the Green Route (a mostly off-road cycle path) as far as Northboro Reserve. You'll ride boardwalks, over bridges and through picturesque parks, and can stop at beaches and any number of fine eateries.
Getting started
* See bikewise.co.nz for tips on how to ensure your bike is ready and safe to take out, and how to protect yourself on the road.
* Take plenty of water and snacks.
* Wear a helmet.
* For detailed maps: maxx.co.nz/cycle.html
Being Bike Wise
February is Bike Wise Month and the perfect time to be out enjoying Auckland on two wheels.
* Explore the city at a relaxed pace with Cycle Action Auckland every Sunday in February. Rides meet at 10am for a 10.30 start.
February 6: South Onehunga's three favourite cycleways.
February 13: West Coastal Circuit, Hobsonville Point with Frocks on Bikes around the former air base and new farmer's market.
February 20: North Green Route from Devonport to Takapuna
February 27: East waterfront ride along Tamaki Drive for a summer picnic. Further info: caa.org.nz/
* West Bike Fest: "Wheely good" family fun. Pimp your bike and join in the cycle activities, 10am-noon Saturday, February 26, Corbans Estate, Henderson.
* On Yer Bike: Free family fun day on bikes with games and prizes. Helmet and shoes required, 11am-3pm, Saturday, February 26, Farm Cove Reserve.
* Go By Bike Day and the Bike Wise Challenge: Register to win prizes and regular emails of support, advice and tips on cycling to work.
bikewisechallenge.co.nz/events/auckland-bike-2-work-challenge