Herald on Sunday rating: 3/5
Address: 7/317 Parnell Rd
Phone: (09) 366 1606
Website: javaroom.co.nz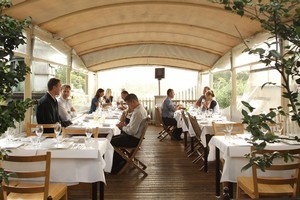 The expansive view from the back veranda of The Java Room - the illuminated facade of the museum, the towers of downtown - is slightly spoiled by a hulking tower, like a glassless lighthouse, so close that it might be trying to climb in the window.
"No idea," the waiter said when I asked him what it was, which seemed to me remarkably incurious. My later inquiries established that it was the roof of Auckland Hospital's old administration building, which was demolished to make way for the new City Hospital.
Parnell Village developer Les Harvey intended to make it into a Punch and Judy theatre, but it ended up as the most magnificent garden shed in the country.
It was one of those stinkingly humid nights we had mid-month and even on the veranda, the shirt-sticking temperature was such that I could almost imagine myself in a riverside place in Bangkok or Vietnam. It also meant that four of us got through seven icy-chilled bottles of beer, but that didn't dissuade the establishment from charging corkage (an eye-watering $14) on the bottle of wine we had brought, even though it went almost untouched.
The Java Room's website boasts two 10-year-old assessments, one from a trade promotion annual not noted for its critical bite and the other from a glossy food magazine which has terrific recipes but whose reviewers have given me some colossally bum steers over the years.
The latter concludes that the food is "all authentically cooked, light and delicious", which is a pretty good description of about 99.98 per cent of the meals I have eaten everywhere northwest of Queensland - and at my local food hall.
It's a fair assessment of the Java Room, for what it's worth, which isn't much; the question is whether that's enough to justify a bill of $65 a head.
The menu - Saigon this; Singapore that; touches of Malay, Chinese, Indian, Japanese, Vietnamese - offers a range of dishes whose authenticity I am powerless to assess, though I note that one man's authenticity is often another's travesty.
When it started in 1995, the idea of a pan-Asian restaurant must have seemed like a sensation: Monsoon Poon and Chow (mercifully deceased, I recently noticed) hadn't been invented and intelligent Asian-inspired food like that at Jimmy Wongs hadn't put in an appearance either.
In the new century, though, I fancy that doesn't cut it. Our party of four agreed three stars was as good as it got (although one briefly argued for an extra half-star when she discovered the pour-it-yourself jug of palm sugar syrup hiding behind her bowl of chilled sago). For the rest, we agreed it was unremarkable.
"Like an extremely good food hall," I offered.
"Like a good food hall," countered the Professor.
She had a point: the Peking duck salad was mostly packet salad and the ungenerous serving of duck had neither the crispy skin nor the juicy flesh that description demands; the beans that came with the sambal prawns were tired; the "crisp Siamese snapper" was overbaked; the chunks of tofu in a vegetarian dish were scarce and overcooked. Only the raw snapper in a lime and coconut dressing - hard to bugger up, really - deeply impressed, though a Javanese chicken (lemongrass, galangal, sambal) and a tomato-rich Indian okra curry were unexceptionable.
Tucked in behind the excellent Thai Friends in the twee Parnell Village development, The Java Room reportedly has passionate local devotees. I can't say I'll be signing up any time soon.
Ambience: Oriental Victoriana?
Vegetarians: Ample choice
Watch out for: The tower
Bottom line: Not quite
THE BILL
$254.50 for four
Entrées: $10-$15
Mains: $18-$26.50
Desserts: $10