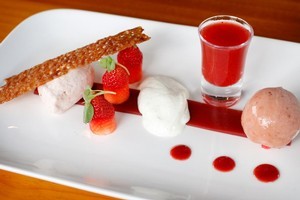 Apologies to devoted Waikato-ites, but "fine dining" and "Hamilton" are not words one expects to find in the same sentence.
Early in November, Bill and I had set ourselves the challenge of finding a reviewable restaurant in the Tron. Having scoured the streets of the city (actually, we ambled gently around the Hood/Victoria/Alexandra St block) we decided that Cullens probably fitted the bill, and made arrangements accordingly.
For a reason that eludes me, Hamilton restaurateurs have not taken full advantage of the river that flows through the city and instead are clustered around the lower end of the city in rather uninspiring surroundings. Accordingly, while the interior of Cullens is pleasant indeed, with a black and white motif, the courtyard is grey and humdrum.
While we were driving down from Auckland, Roz mentioned that she hadn't had whitebait for an age, and how much she missed it. Imagine, then, her delight at finding the last of the season's West Coast whitebait on the menu at Cullens.
Her joy was matched by Bill's unexpected discovery of Cathedral Cove macadamias on the starter menu. His connection with said nuts is rather tenuous, having been a schoolmate of one of the owners but, hey, we take fame wherever we can find it.
So the macadamias were duly ordered, as were the last two portions of whitebait, accompanied by sourdough bread and lime aioli. Roz and Mike were in raptures, with plenty of the wee fish in the fritters and a very good mayonnaise.
My grilled sardines with sourdough, tomato sofrito and garlic aioli were less successful. Although I am a lifelong devotee of canned sardines and I do understand that these were fresh, the very strong smell was unexpected and off-putting.
For the purists, the very thought of ordering an eye fillet well done causes horror and dismay, but it was what Roz wanted - and got. Beautifully cooked, tender, juicy, and with an unusual endive and bacon mash, mustard jus and roasted tomatoes, it kept Roz quiet to the last forkful.
Mike was very taken with the duck breast, shredded and rolled into arancini, accompanied by confit leg and oyster mushrooms. It is a dish with very strong flavours, so the side of steamed vegetables was welcome.
My pork belly with garlic mash and an orange and carrot puree was pleasant but unremarkable. Bill's beef cheek, a new experience for him, was reminiscent of oxtail in texture and flavour, but the powerful flavour was balanced by cauliflower creme and a potato gratin.
The main plates at Cullens are well-judged in size, so that dessert was not an impossibility.
Roz and I shared a platter of strawberries prepared five ways - leather, mousse, parfait, marinated and made into soup - with little moans of pleasure. Mike's affogato was strong and sweet, and Bill's creme brulee was nicely set off with passionfruit sorbet.
The idea of forsaking Auckland restaurants in order to drive for an hour to unexciting Hamilton in order to eat may sound masochistic, but Cullens makes it worthwhile.
Rating out of 10

Food: 8
Service: 9
Value: 8
Ambience: 7

Our meal: $336 for two starters, two entrees, four mains, three desserts, wine and beer.

Wine list: Of reasonable length, covering all the bases. Our bottle of The Ned sauvignon blanc came in at $46, an acceptable mark-up. Prices by the glass are heftier.

Verdict: An unexpectedly great find, which indicates it might not be the only good place in Hamilton. Further investigation is warranted.